BBVA joins an MIT led global alliance on innovation to combat climate change
BBVA has joined the MIT Climate and Sustainability Consortium (MCSC) in order to accelerate the development of large-scale solutions to fight climate change. BBVA is currently the only bank in the world in this alliance, which includes 15 leading companies from different sectors, working together with MIT academic research teams. The members of the consortium will share processes and strategies for environmental innovation.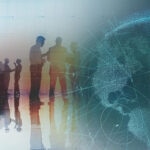 "At BBVA, we are convinced that, apart from financing and accompanying our clients in their transition towards decarbonization, innovation is key. To do so, we must dedicate resources and apply innovation efforts to the fight against climate change. In the coming years, technology applied to decarbonization processes will pave the way for reaching the goal of being neutral in emissions by 2050," said BBVA's Global Head of Sustainability, Javier Rodríguez Soler, who is member of the MCSC Impact Advisory Board (IAB).
"The MIT Climate and Sustainability Consortium is excited to welcome BBVA and harness their perspectives from the financial services industry," said Jeremy Gregory, Executive Director of the MCSC. "BBVA is joining at an exciting time as we approach our one-year mark since launching in early 2021 and are now building off our initial themes into expanded activities for scaling climate and sustainability solutions," he concluded.
The 15 members of the MCSC are leaders in different sectors - from aerospace, biotechnology, IT, construction, textile, catering and finance industries: Accenture, Apple, BBVA, Biogen, Boeing, Cargill, Dow, Holcim, IBM, Inditex, MathWorks, Nexplore (Hochtief), PepsiCo, Rand-Whitney Containerboard (Kraft Group) and Verizon.
These sector leaders are in an optimal position to help accelerate progress in climate change, according to MIT. They can help inspire paradigm shifts within their sectors and foster the benefits that come from cross-sector collaboration in terms of scale.
These sector leaders are in an optimal position to help accelerate progress in climate change, according to MIT.
BBVA is already assisting the working groups on the MCSC's key initial themes that resonated and applied across member companies' climate and sustainability goals. They focus on decarbonizing freight transportation, improving the resilience of value chains, derisking carbon capture, enhancing natural carbon sinks, and improving materials circularity, with two cross-cutting themes: data for and social dimensions of climate and sustainability solutions.
MCSC activities include planning workshops, writing technical documentation, putting together calls to action, developing tools and promoting an entrepreneurial spirit, among other things.
The MIT Climate and Sustainability Consortium has set the following objectives:
To accelerate the introduction of large-scale, feasible solutions to address the threat of climate change;
To offer proposals regarding sustainability opportunities, training for innovators, the need for regulatory policies and the development of business models in all sectors.
To provide quick links between academic innovations and commercial results.
To promote the development of itineraries to attain climate and sustainability objectives in complex, global systems.
To materialize sustainable practices that are action oriented and incorporate social justice, economic equity and respect for the environment.
The companies that have joined the MIT Climate and Sustainability Consortium recognize the profound responsibility of the productive sector in terms of taking action against climate change, as well as its ability to roll out and optimize solutions as quickly as possible. They represent a significant portion of global capital in all sectors, and have committed to collaborate not only with MIT, but with each other to tackle the climate challenge with the necessary urgency, while also being part of the solution to this threat.
BBVA, the most sustainable bank in Europe
BBVA focuses its efforts on accompanying its clients with financing, advice and innovative solutions in the joint effort toward decarbonization.
In climate action, in 2021, BBVA announced that it will double its initial objective for sustainable finance from €100 billion to €200 billion between 2018 and 2025. The bank will no longer finance coal in 2030 in developed countries, and in 2040 globally, in all other locations. Furthermore, BBVA has also set objectives to decarbonize its portfolio in four emission intensive sectors (power, auto, cement and steel) in 2030 - all of this as part of its goal to be neutral in carbon emissions by 2050.
In terms of inclusive growth, BBVA recently announced its Community Commitment. In the 2021-2025 period, it will allocate €550 million to social initiatives in the bank's most ambitious social plan yet.
BBVA was recently selected by the Dow Jones Sustainability Index as the most sustainable bank in Europe, and the second most sustainable bank in the world for the second year in a row.