BBVA has been recognized yet another year in the latest 2023 edition of S&P Global's Sustainability Yearbook. BBVA is one of the most sustainable banks in the world —the top five percent — according to this ranking, which was released today. The yearbook distinguishes the leading companies for sustainability in 61 different sectors.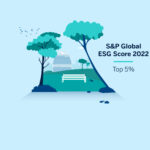 In this edition, S&P assessed 7,800 companies, which represent $84 trillion dollars in market capitalization; analyzed 14,000 documents and collected 14 million pieces of data.
In December 2022, this research firm recognized BBVA as the most sustainable bank in Europe and the second most sustainable in the world for the third consecutive year in the Dow Jones Sustainability Index, the global benchmark index for sustainability.
BBVA had a total score of 86 points out of 100. The bank had 89 points in the economics and corporate governance dimension; 74 points in the environmental dimension; and 88 points in the social dimension. In addition, it received the highest possible score (100 points) on a number of different areas that were assessed: financial inclusion; environmental and social information; materiality; fiscal strategy; crime prevention; public influence or lobbying; and human rights.
BBVA in the sustainability indexes
BBVA is included in the leading international sustainability indexes, of which the FTSE4Good Index stands out. The bank also made the Bloomberg Gender Equality Index for the sixth consecutive year, and received a 'B' rating in the latest analysis by CDP Climate Change.
Selection for and retention on these indexes is based on companies demonstrating constant progress in sustainability issues. It also influences their eligibility for investment portfolios, which are putting more and more importance on non-financial factors.
In climate action, BBVA raised its target to €300 billion channeled to sustainable business by 2025, tripling its initial target set in 2018. By the end of 2022, the bank had already mobilized €136 billion since 2018.
Furthermore, the bank will no longer finance coal by 2030 in developed countries, and by 2040 in all other countries. The bank has also set intermediate decarbonization targets for 2030 in five other sectors (power generation, automobile manufacturing, steel, cement and gas and oil), with the aim of being carbon neutral by 2050.
In inclusive growth, in 2021, BBVA announced its Community Commitment to allocate €550 million to social initiatives in the 2021-2025 period - the bank's most ambitious social plan to date. By the end of December 2022, the bank and its foundations had allocated over €230 million to social initiatives, 43 percent of the commitment.
S&P Dow Jones Indexes is a division of S&P Global (NYSE: SPGI), which provides essential financial intelligence to individuals, companies and governments for optimal and secure decision-making. For more information: www.spdji.com.