Carlos Torres Vila: "Spain has a competitive advantage in the energy transition"
BBVA Chairman Carlos Torres Vila stressed today that the energy transition poses a great opportunity because many existing activities will see enormous growth as new activities will emerge. "Spain has a competitive advantage in the energy transition," he said. "We have the natural resource - the new oil, which is the sun and the wind," he added during his presentation on the second day of Wake up Spain, the energy transition symposium organized by El Español, Invertia and D+I.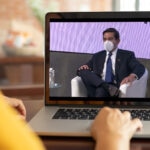 Carlos Torres Vila argued that the fight against climate change represents one of the greatest disruptions in history - a titanic task that must be carried out at a pace that is also unprecedented. And although energy companies play a very important role in this process, it affects society as a whole and requires everyone to join forces: consumers, government authorities, researchers, investors and companies from practically all sectors. In this transition, banks play a crucial role as "drivers of change," he added. In his opinion, "both  transition and innovation require financing, and "we have an important role in advising our clients with innovative solutions to undertake this transition". He also indicated that this transition must be fair and leave no one behind. In this regard, the Chairman recalled that BBVA is a bank that is very much present in the emerging world, and "we are very proud to contribute to its development." The OECD recently recognized the efforts of the BBVA Microfinance Foundation as the number one institution for its contributions to development in Latin America, and number two in the world, with only the Bill and Melinda Gates Foundation surpassing it. Social sustainability is key.
As for the situation of Spain in terms of energy transition, Carlos Torres Vila said that "electrification and the decarbonization of electricity is a key aspect." "We are going to multiply the installed capacity by three. Spain is very competitive in this because it has the natural resource - the 'new oil', which is the sun and the wind." He also stated that the sun will be a competitive advantage in the world we are headed for and it is combined with another competitive advantage, which is the fact that we are close to the market. "As we move forward, not only in transporting the energy through grids, but also in storing this electricity to be transported in different formats. Where will this capacity be installed? Wherever it is more competitive." In his opinion, it will be Spain.
"Energy transition represents a tremendous opportunity to generate growth and well-being"
He indicated that decarbonization will result in many activities disappearing and others losing value, but at the same time, many existing activities will experience enormous growth, and new activities will emerge. Therefore, on the whole, "it represents a tremendous opportunity to generate growth and well-being."  In his opinion, the public sector has a crucial role to play in an energy transition that leaves no one behind, ensuring a fair transition and compensating those negatively impacted by the transition through compensation, recoversion, education, training, aid and incentives. "We cannot just leave them alone," he said.
BBVA's Chairman noted that in the context of the current crisis, the biggest concern for many businesses, SMEs and the self-employed has been ensuring their survival. However, he feels that sustainability is a long journey and an opportunity for SMEs to be more competitive - both in the current context and in future crises. "Consumers are increasingly aware of the importance of sustainability. Investing in sustainability is not an expensive decision, it is a smart decision, and not an expensive one," he explained. For example, the improvements in energy efficiency can help reduce production costs.
In his opinion, this investment is crucial for SMEs, but awareness and knowledge are needed. That's where large corporations and banks in particular can play a fundamental role in promoting that knowledge among companies, offering customers data-based innovative solutions to better prepare and leap at that opportunity.
Carlos Torres Vila explained that the Next Generation EU (NGEU) funds represent a historic opportunity to propel recovery and modernize the economy and society. In this regard, the role of the public sector should focus on investing in major infrastructure and research, while making sure that "funds get to both SMEs and individuals." In his opinion, a wide-range of programs are needed in which funds are allocated with transparency and in a competitive manner. He also believes that "institutional stability" and "clear rules of the game" are fundamental, as well as "an efficient tax system that does not distort decision-making." In short, he stressed, "It is very exciting to have these funds. Now we have to act to make it happen," he said.
He also mentioned the Spanish Integrated Plan for Energy and Climate (PNIEC, in Spanish), which estimates an annual investment of €25 billion in the next decade. That figure, however, could increase to €30,€40 or €50 billion with support from the NGEU funds. "We need to get those funds to multiply with private investment. Private investment is the key factor behind long-term growth," BBVA's Chairman said. Two-thirds of variability in growth is determined by private investment.
Carlos Torres Vila described how BBVA has been a pioneer in incorporating sustainability as of the key strategic priorities for the bank: to help clients in their transition toward a more sustainable future. Since 2018 it has mobilized over €50 billion of its commitment to fight climate change, putting it well ahead of the BBVA Group's total goal of mobilizing €100 billion by 2025. The bank has also made progress in delivering on its commitment to align its activity to Paris Agreement objectives. BBVA has been carbon neutral for the emissions directly generated by its activities since 2020. "We recently took a step farther, making the commitment to reduce our exposure to coal-related activities to zero, and no longer financing companies working on these activities by 2030 in developed countries and by 2040 in the emerging world," he explained.
Furthermore, Torres Vila called attention to the great work being carried out directly in community investment. In 2020, BBVA allocated over €140 million to social initiatives and those in support of education, the promotion of culture and science, entrepreneurship, and alleviating the effects of COVID-19, benefiting over 12 million people.
All of these initiatives led the Dow Jones Sustainability Index to recognize BBVA as the most sustainable bank in Europe, and the second most sustainable in the world.