Javier Rodríguez Soler: "There is increasing pressure to buy quality carbon credits"
The Global Head of Sustainability at BBVA, Javier Rodríguez Soler, said that we are seeing a growing interest in carbon markets, which "will play a critical role in the energy transition." In an online panel organized by the Institute of International Finance (IIF) in the framework of the COP27 held in Sharm El-Sheikh, Javier Rodríguez Soler acknowledged that "there is increasing pressure to buy quality carbon credits."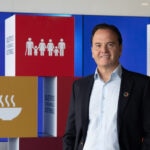 Carbon markets are designed to support carbon credit trading to finance sustainable projects so that companies can offset their carbon footprint.
In their goals of achieving 'net zero,' the priority is for companies to manage and prioritize the reduction of their emissions. But it is also positive that they can use offsetting mechanisms for residual emissions they cannot reduce or for which there are no available technologies, especially in emission-intensive sectors. "There are more emission reduction commitments than available technology to make the reductions possible. So this needs to be compensated with carbon credits" he said.
"There are more emission reduction commitments than available technology to make the reductions possible. So this needs to be compensated with carbon credits"
This is why it is key to have transparency and professionalism in voluntary carbon markets, which help to set a price for the cost of emissions. For Javier Rodríguez Soler, in a context in which these markets are growing, an accurately designed mechanism of carbon price formation is a key element in any strategy to reduce emissions. "Putting a price on carbon is critical to change the behavior of companies," he explained.
In his view, improved functioning of carbon markets would be a forward stride in the path toward reducing greenhouse gas emissions. "We are witnessing a race for companies that really want to have high quality credits and are willing to pay more for them. This is something that is already happening," he commented during his speech at COP27.
"Voluntary carbon markets have been around since the 1990s but started to gather traction in the last five years. They are expected to scale even further in the short term," he concluded.
Afterwards, Ricardo Laiseca, Head of Sustainable Transition at BBVA, spoke on the bank's goals in relation to carbon markets. "We intend to cover the entire value chain with the ambition of becoming a global leader in the carbon credit business." This, he said, "is critical to support the transition to be undertaken by our clients around the world."
In this context, "it is important to develop new skills to improve risk management and generate stronger supply and demand dynamics for trading in high-quality carbon markets," explained Laiseca. "This is what we are doing now. Setting up new teams, hiring the best people and developing new capabilities internally," he said.
The panel also included experts from a range of sectors involved in carbon markets. For instance, Teresa Parejo-Navajas, Head of Sustainability at Iberia, pointed out that her sector "is committed to what science and international treaties establish as the main goal to limit the effects of climate or the worst effects of climate change." She explained that the airline is using new sustainable fuels that reduce the impact of the transport sector on climate change.
BBVA and carbon markets
In line with BBVA's goal of supporting its business clients in their transformation toward sustainable business models, in April 2022 the bank launched a new carbon markets business line that offers corporate customers the possibility of trading emission allowances and carbon credits. BBVA is a founding member of the global Carbonplace platform, which provides direct access to carbon credits to offset emissions. 
In 2021, BBVA joined the Taskforce on Scaling Voluntary Carbon Markets (TSVCM), which set forth a roadmap to articulate and strengthen the integrity and transparency of the voluntary carbon market. 
Voluntary carbon markets operate in parallel to mandatory markets, in which governments, multinationals and financial institutions such as BBVA participate. Regulated mandatory carbon markets emerged from the 1997 Kyoto Protocol as tools to reduce environmental harm. Since 2005, the European Union has been operating the European Emissions Trading System, one of the most ambitious in the world.