Onur Genç: "More than half of our sustainable business was channeled in Spain in the first quarter of the year, a new record"
Spain is a key market to promote sustainability at BBVA. In the first quarter of 2023, the bank channeled €7.81 billion euros in sustainable business in this market - up 40 percent from the same period last year and more than 50 percent of the total amount (approximately €14 billion) mobilized by the BBVA Group. "Over half of our sustainable business was channeled in Spain in the first quarter of the year, a new record," the BBVA CEO said this Wednesday at the 18th Meeting of the Banking Sector organized by IESE.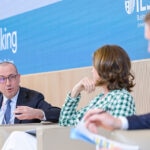 The BBVA CEO took part in a round table discussion on sustainability and banking, together with Alejandra Kindelán, president of the AEB, moderated by Christian Eufinger, professor at IESE Business School. At the beginning of his speech, Onur Genç pointed out that societies are facing three major environmental and social challenges, which are intrinsically linked and require action by governments, companies, the financial sector, and civil society as a whole: decarbonization, the preservation and expansion of natural capital, and inclusive growth.
BBVA has made sustainability a strategic priority, created a specific unit for this purpose nearly two years ago and tripled its sustainable financing target to €300 billion between 2018 and 2025. By the end of March 2023, it had already reached half of this figure. It also aims to decarbonize its portfolio, both directly and indirectly (that of its customers), and has joined the Net Zero 2050 commitment.
Onur Genç recalled that $275 trillion must be invested by 2050 to achieve a world with zero net emissions. This is the largest economic disruption in history and represents 8 percent of annual global GDP up to that date. Spain must invest over €100 billion every year (more than 7 percent of its annual GDP) in order to reach this goal, he stressed.
In terms of inclusive growth - the other pillar of sustainability for BBVA along with climate action - he indicated that the challenge lies in providing opportunities for everyone, leaving no one behind. According to The World Bank, 1.4 billion people do not have access to a bank account. "We need to ensure that society progresses as a whole," he added.
Positive view of regulators and supervisors
Onur Genç emphasized that collaboration with regulators and supervisors is necessary to face the enormous challenge posed by the decarbonization of the economy. "The perspective of regulators and supervisors is positive. They are making an effort to help banks in their path toward the decarbonization" of their clients, he explained. The BBVA CEO called for a simpler regulatory framework, especially in terms of the reporting required of banks. For a global institution like BBVA, the priority is to avoid fragmentation, he said. "We have to find a new way of harmonizing reporting," he noted.
Genç emphasized that no one can be left behind. "We have to focus on the transition, on promoting change in all companies," he said. "The change is what is relevant, not the starting point" of each company, he explained.
The bank is carrying out various actions to support its clients in the transition to a decarbonized economy. For large corporate clients, BBVA has focused on low-carbon technologies and on accompanying high-emission sectors in their transition. The bank has also improved the advisory capabilities of its teams to finance its clients' transition strategies.
For smaller companies, standardized products and solutions are being developed in six thematic areas (power, auto, real estate, agriculture, supply chain and inclusive growth) and specialized teams have been created to help clients achieve their sustainability goals.
For retail customers, BBVA is leveraging the digital transformation to expand its digital offering, while creating an innovative and disruptive value proposition. For example, it has driven inclusion for unbanked customers; developed a range of sustainable solutions for retail customers (such as green mortgages, financing solar panels and electric mobility), and is using data analytics to identify risks and opportunities in this field.
BBVA is also financing new sustainable technologies through venture capital funds such as Hy24, specialized in hydrogen, Lowercarbon, focused on carbon capture, use and storage technologies, and Fifth Wall, dedicated to sustainable building materials in the real estate sector (construction materials, energy efficiency, etc.)
To conclude, Onur Genç stressed that decarbonization is not just a challenge. It's an opportunity that Spanish banks "are taking very seriously."