When being a woman is an advantage to launch a business
Astrid, Adelaida and Arancha are three very different women. They live thousands of miles apart. In different countries, different continents. Their work is also completely unrelated: livestock breeding in Colombia, a store in Panama and mobile app development in Spain. However, there is one thing that these three women have in common: all of them, at one point in their lives, decided to start their own businesses to support their families or make an idea come true. The three also think that, in their case, being a woman worked more to their advantage than against it. We brought them together so that they could share their story with us.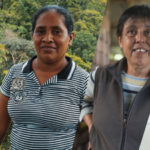 Adelaida Morán and Astrid Orjuela are two of the more than one million female customers of the BBVA Microfinance Foundation, a nonprofit organization that nurtures the economic and social development of disadvantaged people who are engaged in productive activities
Adelaida lives in Capira, a village in Panama. She runs a small shop, which she set up to feed her five children and be able to keep them in school. "I thought about the store because of my family and my town," Adelaida explains. The nearest store is in Chorrera, a town that's three hours away. People leave their house at six in the morning and are not back until noon."
From accountant to goat farmer
Astrid decided to start her own business almost by chance. She lived in Bogotá, working as an accountant. One day, she got fed up with the life and decided to move to the countryside.
"We bought a little goat as a pet, instead of a dog, but she cried a lot, so we decided to bring her a little friend", recalls Astrid. The two goats were the beginning of what is now one of the most reputed folds in the country. "I never imagined that I would become the best breeder in Colombia, that I would be producing some of the best goat milk in the country, own the only disease-free farm in Colombia, and even export my animals".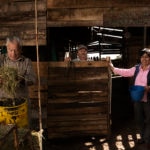 Astrid Orjuela, client of BBVA Microfinance Foundation, with her husband and son - Manuel Vázquez
Despite the ocean between them, Arancha Martínez's story is similar in many ways. She also worked with numbers. She worked as an economist for an investment bank in Ireland. In her case, it was a trip to India that changed her life.
 I fell in love with India and realized that I could make a much bigger difference there than in Europe". Arancha Martínez
"I travelled to India to enjoy a temporary personal experience, linked to volunteering. In principle, my intention was to go back to the bank, but once in India I realized that, leveraging my university studies and my professional experience in strategic marketing, I had real chance of making a social impact". I fell in love with the country – Arancha recalls – "and realized that I could make a much bigger difference there than in Europe."
On that first trip to India, she engaged with many organizations with tremendous potential for social impact, brimming with talent, run by passionate people. But, due to a lack of adequate processes and technology, their efforts were failing to deliver the results they could be aiming for. "I decided to stay and set up an NGO, which then became a company."
Itwillbe, the company that Arancha runs, is one of the 199 projects that have secured backing from BBVA Momentum, a project launched in 2011 to support companies seeking to make a difference in people's lives. Itwillbe works as "a laboratory were we test technologies that can help boost the efficiency of social projects. Once we determine whether they work, we offer them to partnering NGOs".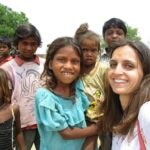 Arancha Martínez, director of Itwillbe - Itwillbe
These three entrepreneurs' businesses are already up and running successfully after overcoming their fair share of obstacles.
A chainsaw as collateral
"I was having trouble securing a loan because I did not own any land to mortgage," says Adelaida. She found the solution to her problem one day, while listening to the radio. "I heard about Microserfín (BBVA Microfinance Foundation's branch in Panama). So I visited them and asked for help. They came to my house and took a picture of a chainsaw and an electric generator I owned, and that's all the collateral I needed. My loan application cleared in just three days." With the $200 of that loan, Adelaida set up her first outlet to sell lemons.
Astrid did own some land, the plot where she ended setting up her goat farm. But she was "really afraid about mortgaging her property and losing it." She also turned to the Microfinance Foundation, which gave her his first loan nine years ago. "I've taken out six or seven loans. I never had any problems. No troubles. "
I was a public accountant, an urbanite. I didn't know the first thing about milking, about raising animals and in the blink of an eye I already had 20 goats in the herd". Astrid Orjuela
Becoming a livestock farmer wasn't easy for Astrid Orjuela, a petite, lively Colombian.. "I was a public accountant, an urbanite. I didn't know the first thing about milking, about raising animals and in the blink of an eye I already had 20 goats in the herd. I almost went crazy." Many sleepless nights and many tears later, I found salvation in the Association of Livestock Farmers of Colombia. "I started attending their workshops, learning, meeting veterinarians, and I started overcoming my fear. I even learned how to perform minor surgical procedures and help perform autopsies on some of the animals that died."
In the case of Arancha, the hardest part wasn't launching her business. Her family and friends supported her during her first experience in cooperation. "When the issue became really complex, was when I realized that what the sector needed was investment in innovation. Innovation is expensive and so is technology."
However, despite her youth and lack of technology experience, Arancha was by no means ready to give up. "We had developed a biometric recognition app to identify undocumented group, to help NGOs and governments manage their needs much more efficiently."
Aware of how hard it was going to be to secure the kind of funding their project required, the members of Itwillbe decided to start looking for strategic partners. "When your partners are tech firms like Fujitsu or institutions like BBVA, finding other allies and gaining credibility becomes much easier," says Arancha. "In the field of technology, the difficulty is always there, because you have to keep innovating. You need to stay on top of everything, because in one year your project can become obsolete. "
For Adelaida, growing her business was also hard. "I started selling lemons. And then I set up the shop. But it was very hard, because the only road that leads to our town is a dirt track. And the chivas – rural buses – don't drive up the road. So the only way to have the supplies I need delivered is by horse, and I have to pay for the horses and the guides. But I didn't let that stop me, I just kept going." The next step on my journey was buying livestock. "I applied for another loan with Microserfín and used the money to buy animals. So now I also sell eggs, chickens, and pork."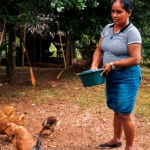 Adelaida Morán, client of BBVA Microfinance Foundation
Men will only run up to a certain point. Then, they stop. We don't. We keep at it until we get what we want". Adelaida Morán
Being a woman has never been a problem for Adelaida. For Astrid it almost worked in her favor. "Us women, we are more verracas, as we say in Colombia: Bolder and braver. We don't quit after stumbling for the first time. We get up and keep going. And we are more reliable. We are more trustworthy than men. And this is not gratuitous. If they somebody would let us women rule the world for a short while, things would be different.
"Men," says Adelaida, "will only run up to a certain point. Then, they stop. We don't. We keep at it until we get what we want.
Arancha, however, has had a very hard time getting local organizations to trust her because she is a woman. "India is a very macho country ... I was only 24 when I got here, so I was not only a woman, but very young also, and that made it particularly hard to deal with the heads of these organizations, who considered me to be far below them in the social ladder". During the first years – she recalls - "I had to ask my husband to come with me to some meetings."
Paradoxically, working in the field of technology, a sector in which men are the majority, being a woman has played to her advantage. "Women are positively discriminated against and I think we need to be smart and take advantage of it."
Arancha, a mother of three children born while she was launching her business, thinks that striking the right life-work balance is always harder for women. "I was lucky, because as an entrepreneur I was able to keep a flexible schedule, and find this balance. However, I did have to sacrifice quite a few sleeping hours, because no matter how much men want to help, and in my case I don't have any complaints about this, there are some things - such as giving birth - that only we can do."
Future Projects
Beyond the initial of their first names - "they all start with A", says Astrid – if there is a common trait that defines these women it is their tremendous capacity to undertake new projects, to never stop dreaming.
Indeed, Astrid knows exactly what her next steps are going to be: "After having managed to produce the best goat milk in Colombia, I want to produce the best goat semen in the country. That way we won't have to keep importing animals or semen from other countries. Because to bring animals from the United States and semen from France to raise my goats I had to go through a very expensive and complicated process that required a lot of paperwork".
Arancha's goal is just as ambitious. She's fresh back from the Mobile World Congress. "In every booth I visited, I just couldn't stop thinking about the million ways we could put these technologies - from blockchain to language translators- to work in our cooperation efforts ... My dream is to convince more and more institutions and investors who believe in social innovation to support us, providing me with resources and accompanying me in this journey, to make all these ideas that - I am sure – can revolutionize the sector come true."
Adelaida is still concerned about the lack of infrastructure her community suffers from and is determined to continue taking steps to alleviate them. For her next project, she does not need support from large investors or science.  She just wants to buy a car. "But not only for me, to bring supplies, which of course will be great. But also to help the town, to take people to the hospital in Chorrera when there is an emergency. It won't be an ambulance or anything like that, but I can drive those who really need it."