BBVA is the best bank to work for in Spain, according to Merco Talento
BBVA is the Spanish bank with the greatest capacity to attract and retain talent, according to the results of the 12th edition of the Merco Talento study. The 2017 ranking, which is led by clothing retailer Inditex, lists the 100 best companies to work for in Spain.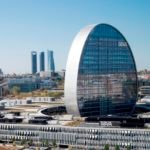 To draw up this classification, Merco Talento collected and analyzed the opinions of all the groups that determine whether a company is an attractive place to work. More than 30,500 people were surveyed, including employees of the companies under study, university students, business school alumni, heads of human resource departments, experts, headhunters and the general population.
All these groups evaluated the companies with regard to three key values that, in the authors' opinion, determine whether a company has an attractive working environment: job quality, employer brand and internal reputation.
In this year´s ranking, Merco Talento paid special attention to the opinions of university students, in order to learn the preferences of this group, which contains the talent of the future.
"University students want to work at large companies, preferably multinationals," said Merco Talento CEO José María San Segundo, at the presentation of the ranking. When choosing a company to work for, they consider above all else salary, quality of life, training and the possibilities for professional development.
As for workers, San Segundo pointed out the high degree of satisfaction among the employees of large Spanish corporations. Eighty-two percent of those surveyed said they felt completely identified with, or satisfied with, the company they work for. This compares to the 18% who said they were thinking of leaving their company.