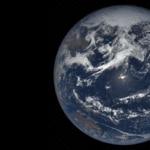 The Green Bond Pioneer Awards are held every year to celebrate the achievements of organizations, financial institutions, governments and individuals who have demonstrated leadership and innovation in this field and provided examples of investments that fight against climate change and promote low carbon initiatives in different places and sectors.
Climate Bonds Initiative is an international organisation working solely to mobilize the largest capital market of all, the $100 trillion bond market, for climate change solutions. They promote investment in projects and assets necessary for a rapid transition to a low carbon and climate resilient economy.
The fourth edition of these renowned awards in the industry focused especially on emerging economies and the accomplishments of smaller countries in the fight against climate change. During the awards ceremony, the importance of accelerating and propelling sustainable investments was stressed, as well as the need to expand cross-border capital flows to support low carbon economic growth.
BBVA's sustainable hat trick
BBVA's framework for sustainable bonds tied to the UN SDGs received a Certificate of Recognition from the institution for including green, social and sustainable projects in the framework. BBVA's second award was for issuing the first green bond from a financial institution in Spain. In fact, this bond was the first from a financial institution in all of Europe and the largest amount in the eurozone at the time it was issued. The bank also received a certificate for BBVA Bancomer's first green bond; it was the first private bank to issue a bond of this kind in Mexico.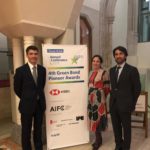 Juan Blasco, Global Head of Syndicate; Patricia Cuenllas and Ángel Tejeada from the Sustainable Bond Group.
Juan Blasco, Global Head of Syndication, was thrilled by the awards: "At BBVA we help our clients finance social and environmental projects, always governed by our values. We are driven by the ambition to lead change in capital markets, promoting sustainable finances, with a team of professionals that continues to lead the structuring and investment of green, social, and sustainable bonds in Europe and the Americas".
Sean Kidney CEO, Climate Bonds Initiative, explains "BBVA receiving triple recognition in the 2019 Awards is a unique achievement. Linking green finance to SDG outcomes and engineering green issuance in both an emerging and developing economy, all in the space of a single year, is an outstanding example of the fast pace and investment directions needed from the global banking sector. We congratulate you".
BBVA's Pledge 2025
As a sign of its firm commitment to the fight against climate change, BBVA approved its Pledge 2025 in 2018 through which the bank will mobilize €100 billion from now until 2025 in green financing, sustainable infrastructure, social entrepreneurship and financial inclusion. The bank has the capacity, knowledge and experience to provide its clients superior advisory services for sustainable financial solutions and is playing a key role in developing this market.
2018 proved to be a year of consolidation for green, social and sustainable bonds. As an issuer, BBVA approved its framework for sustainable bonds tied to UN SDGs and successfully concluded inaugural green bond issues by BBVA and BBVA Bancomer, as well as Garanti's first gender bond. As a placement and structuring agent, BBVA has maintained its leadership in this market, participating in 13 operations as a bookrunner.