The R3 consortium is working with 12 financial institutions –including BBVA– and TradeIX in an initiative that aims to re-design the trade finance infrastructure through the use of distributed ledger technology, or DLT.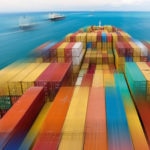 The initiative focuses in the development of an end-to-end solution for trade finance accounts powered by the Corda distributed ledger platform. The project will include an ecosystem of APIs and specific technology tools for the management of these operations, as well as an open, standard core infrastructure for data, contract and transaction management.
The project, still in prototype stage, aims to streamline this field of trade finance, making it safer and more flexible for the ecosystem of banks, insurers, and other parties, such as logistics companies, that are critical to facilitating global open account trade flows. The prototype will be customized to meet the needs of participants across multiple geographies.
BBVA, as member of R3, a financial innovation consortium, is one of the 12 financial institutions taking part in the project. The other participants are Bangkok Bank, Barclays, Bladex, BNP Paribas, Commerzbank, CTBC Bank, ING, Intesa Sanpaolo, Shinhan Bank, Royal Bank of Scotland and Wells Fargo.
In its initial stage, the project is focusing on building a smart contracts standard specifically for trade finance, supported by a DLT infrastructure.  The standard will enable the automation and secure financing of supply chain, using a single record for a transaction, including sensitive information, such as identity, purchase orders, invoices, shipping information, trade assets, financing activity and credit risk, to name a few.
Improving traceability
The project will enable financial institutions to automate the financing process of trade transactions before and after shipments, thus minimizing risk for sellers and buyers across the world. Trade agents will gain access to a flexible API-based technology that will allow them to improve the traceability of transaction flows to mitigate risks in the trade cycle as a whole.
As R3 CEO David Rutter explained: "Earlier this year R3, TradeIX and a core group of R3 members teamed up to redesign the infrastructure behind open account trade finance utilizing our Corda platform and the TIX-Platform of TradeIX.  Existing trade finance infrastructure is in serious need of an upgrade, and this project is a big step towards the adoption of reliable, efficient and standardized processes for the entire sector."
The infrastructure is being designed to ensure compatibility with other solutions and ecosystems developed by R3. BBVA is also collaborating with the institution in the development of an application that will allow digitizing trade finance documentation processes through DLT technologies, and the development of an identity management system based on the same technology.