BBVA's podcasts were awarded in the "Multimedia & Digital" chapter of the "Corporate Radio and Television" category. There were two other entrants in this category: "Grayling TV, Public Affairs Insights" and "Radius: The Radio of the University of Seville."
BBVA's podcast channel, which debuted in December 2017, aims to boost the reach of the Group's own voice. The channel's first proposal was Blink, a weekly program focusing on practical information about digital transformation, fintech solutions, entrepreneurship, work methodologies or finance. The Group's podcast roster now spans 10 programs covering different topics and subject to different release schedules, with the active involvement of the countries in which the Group operates. The programs are: 'Aprendemos Juntos', 'Deep Talks', 'Data Historias', 'Acentos', 'Openmind', 'Edufin', 'Desde la Banca', 'Voces', 'Sencillo y efectivo' and 'The Mind Bank', the latter in English. All episodes are available at BBVA Podcast and through the following platforms: iVoox, iTunes, Spotify y Google Podcast.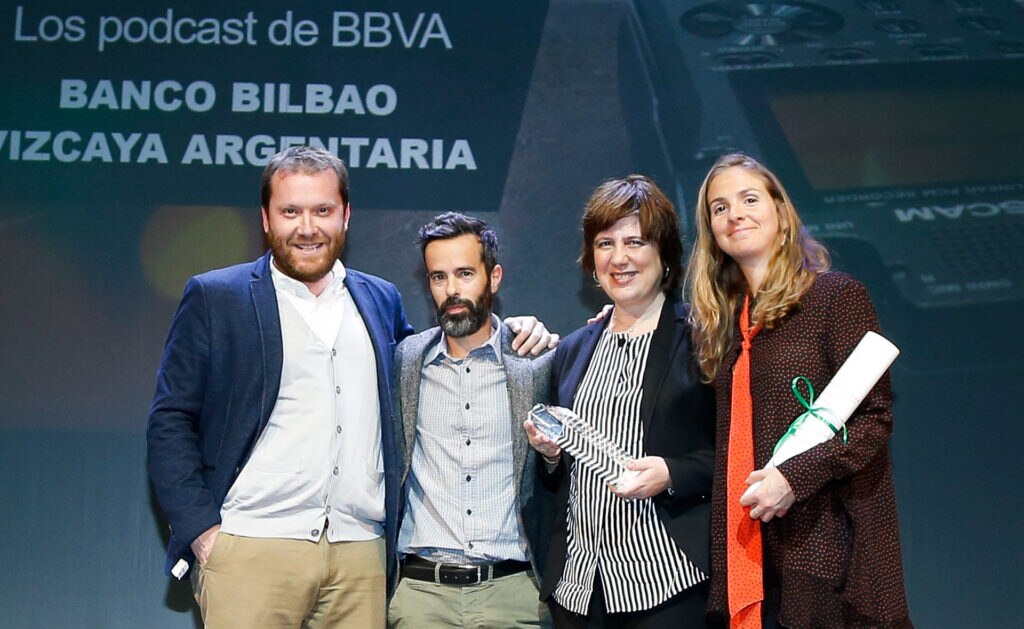 BBVA Podcast team - dircom
Every year, Dircom, the Spanish Association of Communication Executives, organizes the Ramon del Corral Dircom Awards to recognize the best Communication initiatives in Spain..
The Awards are the Spanish stage of the Fundacom Awards. The winner and two finalists in each category are automatically entered into the final stage of the Fundacom Awards, which will be held in Madrid on May 9.
Over 130 projects were submitted to participate in the 23 categories of this year's edition of the awards, the second since they were established. Nuevo Pescanova Group's "El renacer de pescanova (The Rebirth of Pescanova)" project won the Extraordinary Category award, which singles out the best Global Corporate Communications strategy.
View the complete list of winners here.