BBVA's transformation is also founded on its new regional headquarters
A year after the inauguration of the BBVA Francés Tower in Buenos Aires, BBVA's new regional headquarters exemplify the bank's transformation strategy, which is being rolled-out in all its operating countries. A transformation that is supported by the reshaping of physical spaces.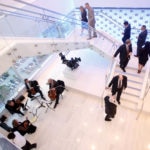 New ways of working also prove to be fundamental to BBVA's transformation. Globally, BBVA's regional headquarters are currently characterized by an open space model where offices have disappeared. Spaces are designed around open floor plans that include various informal meeting areas. The idea is to promote the exchange of knowledge, innovation, and the streamlining of decision making, some of the elements that have seen BBVA become Spain's best bank to work for, according to the business magazine, Actualidad Económica.
"The architecture and interiors lend themselves to innovation, changing closed spaces into completely open planned layouts, meeting rooms into transparent spaces, open and informal with armchairs, and where there is no hierarchical distinctions, letting agile environments enjoy complete freedom of movement," concludes Susana López, head of BBVA projects for new regional main offices.  ​
Wifi everywhere (including outside), using both Google's collaborative environment and its own BBVA-developed applications, as well as those developed by partners, allows for a working environment where activities are no longer limited to a single specific space, rather it is an experience that provides numerous possibilities with complete flexibility to find the best place to work at any given time.
The innovative management of space resulting from a reality that demands new, more collaborative ways of working, less hierarchy, with cross-departmental teams working together on agile projects has gone hand in hand with architectural designs based on sustainable development. Currently, 14 of BBVA's regional headquarters across countries like Spain, Mexico, Argentina, the US and Paraguay, have received LEED certification, the highest environmental standard. "Certainly, this would prove that our new regional headquarters have benefited from the best architectural studies, innovative designs and exceptional projects focused on the interests of people." explained Susana López, BBVA's Head of Global Design and Build and Ciudad BBVA.
BBVA's corporate headquarters, located in the north of Madrid, accommodates 7,000 people daily. "It's a little city, designed by Herzog & de Meuron where concepts such as simplicity, technology, and sustainability are placed at the service of people. The low buildings in the complex are named after continents and the streets that separate them are named for seas and oceans. The objective is clear: to transmit a global image for BBVA Group." states Susana López. "This was something that was key to the Herzog & de Meuron study, which received the Pritzker Architecture Prize , the world's premiere recognition for their field.
BBVA City, through the services it provides its employees, is also a testing ground for the most advanced banking projects and digital payments. Currently, more than 1,000 employees use an app to automate their payments, and testing has begun on a biometric, facial recognition system based on technology from the startup, Veridas, which was founded in 2017 by BBVA and Das-Nano.
"BBVA City–and all BBVA's new regional headquarters in its different operating countries–are key instruments in the bank's transformation strategy.  Space has created a radically different environment, where communication and interaction are key to changing the approach to work. This is how digitalization and the disappearance of paper have witnessed resounding success in the new spaces, where an interactive environment steals the spotlight." explains Susana López.
The BBVA City, located in the north of Madrid, daily welcomes some 7,000 people.
From an environmental perspective, the 253,000 square meter (2.7 million square feet) BBVA City has received LEED Gold certification, thanks to eco-efficient measures such as a glass facade with an argon gas chamber that thermally isolates the interior spaces from direct solar radiation. The air conditioning operates on a system of cold beams that reduces consumption by 11% compared to conventional climate control systems. That added to the 30% energy savings thanks to its being the largest building in Europe using LED lighting technology and the 60% additional savings thanks to systems that detect the presence of natural light and regulate accordingly.
The objective is to transmit a global image for BBVA Group"
Within the "La Isla" (island) complex, BBVA City also boasts a sports facility with a fitness and weight room, rooms for group classes, swimming pools, and a medical center focusing on physiotherapy and rehabilitation.  Installations that are open to all employees and their families. The sports facility is supplemented by a nursery school with capacity for 250 children from 0-3 years old.  In addition to its school year operations, it organizes activities for employee's children during school holidays.
BBVA City has received numerous awards, among which the following stand out: the Renault Foundation's 2016 Sustainable Mobility Best Practice award, the Excellence in Sustainability Club award, the "Best Office Building 2015" award from the Spanish Association of Offices, and the Spanish Association of Structural Engineering's Runner-up for the Best Building Structure.
Torre BBVA Bancomer (Ciudad de México)
BBVA Bancomer, the leading financial institution in Mexico, built its new headquarters in 2016 in the Aztec capital. A tower erected on a foundation of innovation, technology, and new ways of working, the BBVA Bancomer Tower, at 234 metros (768 feet) high and with fifty floors has become the capital city's tallest building.
Moreover, the BBVA Bancomer Tower has also been singled out for its notably safe construction. The building remained standing – despite the formidable earthquakes that took place in Mexico City in 2017 – thanks to a combination of resistant, pliant materials in the load elements that made the building one of the safest places to be during the natural disaster.
The BBVA Bancomer Tower recently received LEED Platinum certification in building design and construction (BD+C), thus making it the only building of its height in Mexico to receive this recognition. It has received 20 nominations, awards, and recognitions from important publications, associations, and architectural festivals, on both a national and international level.
In the case of BBVA in Mexico, the bank's transformation has gone beyond the BBVA Bancomer Tower. The bank has renovated 1,800 branches in Mexico, thus creating the biggest network in the country with more than 10,000 ATMs and 235,000 point of sale terminals for debit and credit card payments.
Torre BBVA Francés (Buenos Aires)
In Buenos Aires, also within the framework of the company's digital transformation, the new BBVA Francés Tower was inaugurated just over a year ago. Located on the Puerto Madero waterfront and with impressive views of the La Plata River, BBVA's Argentine headquarters has 33 floors, 23 of which used by BBVA Francés, and follows the corporate model of a floor plan without dividing walls, thus fostering collaboration, knowledge exchange, and cross-departmental cooperation.The building was designed as a means to drive the Group's digital transformation in the southern country. A new headquarters building envisioned to extract the best use of technology for the benefit of its employees.
The BBVA tower's design was put to the service of innovation itself"
"As with BBVA's other new headquarters, in Buenos Aires the BBVA tower's design was put to the service of innovation itself. A design where sustainability, natural light, and transparency; simplicity and a sense of comfort for the people using it, are key." explained Susana López. ​
Built according to demanding environmental requirements, the BBVA Francés Tower received LEED Gold certification, thanks to a number of features including a system that enables electricity and water savings of up to 30%.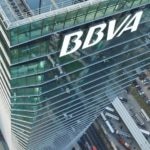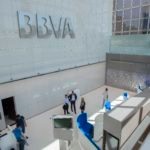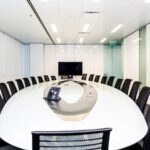 La Torre BBVA Francés ha sido concebida como una herramienta para impulsar la transformación digital del Grupo.
Torre BBVA Paraguay (Asunción)
BBVA's Paraguay headquarters were designed and constructed according to the same corporate transformation model. It is LEED Silver certified and was the first building in Paraguay – and of the BBVA Group – to receive this certification. For the purposes of sustainable development, the facade of BBVA's Paraguay headquarters has a solar filter that allows light to pass through but repels high temperatures, thereby avoiding massive air conditioning consumption. Additionally, these lighting and cooling systems are automatically controlled and highly efficient for low consumption.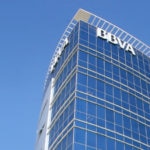 The headquarters of BBVA in Paraguay has LEED Silver certification, being the first building in the country to obtain such certification.
BBVA Compass Plaza (Houston)
BBVA Compass Plaza in Houston accommodates 800 employees across eight floors. It boasts an employee gym in addition to an innovation laboratory and a flagship branch open to customers and the general public alike. Of the 317,998 square feet, BBVA occupies 185,000.
As in the other offices across the globe, the move to the new building in Houston came with significant cost savings thanks to the centralization of the bank's activity into a single building.
The building was inaugurated on June 13, 2013 by BBVA's Group Executive Chairman, Francisco González who was responsible for cutting the Plaza's commemorative ribbon at a night time ceremony, which included performances by the Houston Symphony's quartets and an illuminated screen in the building's terrace.
In 2014, the building won the Houston Business Journal's 2014 Landmark Award for best office building development in recognition of the city's outstanding real estate projects. The building is also LEED Gold certified.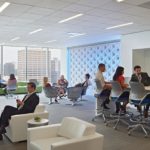 The BBVA Compass Plaza welcomes over 800 BBVA employees in Houston.