Corporate information
Dear shareholders,
2022 was a year of significant geopolitical and economic challenges, but the strength of BBVA and all of its franchises, the effort and dedication of our team, together with our leadership in strategic areas such as innovation and sustainability, have allowed us to grow in a profitable and sustainable manner, contributing to the economic and social growth of the communities where we have a presence.
We added over 11 million new customers worldwide. Our rate of growth increases every year. The pace at which we acquire new customers has more than doubled from five years ago. This enormous progression is due to the fact that we were pioneers, and made a decisive commitment to digitization. Currently, 55 percent of new customers join the bank through digital channels.
Furthermore, we are increasingly using new technologies and data so our customers can make better decisions, and thus improve their financial health. Our clients are increasingly satisfied with our service, as evidenced by the net promoter score (NPS), which grew five percentage points over the past year, placing us as a leader in our footprint.
Today we serve almost 70 million customers, contributing with our main activity, granting credit, to meet their personal, family and business needs, while supporting their economic growth and the development of more prosperous and inclusive communities.
In 2022, we increased the amount of credit granted by 13 percent, helping more than 100,000 families to purchase their home and financing the growth of almost half a million SMEs and the self-employed, and more than 70,000 larger companies, thereby promoting job creation. Moreover, we mobilized over €9 billion to finance inclusive growth initiatives, including infrastructure, social mortgages and insurance policies. We have also supported vulnerable entrepreneurs with microcredits through programs like those of the BBVA Microfinance Foundation.
We amplify the impact with our Community Commitment, which we announced in 2021, by which we will devote €550 million to social initiatives by 2025, together with our foundations. By the end of 2022, we had already surpassed €230 million, 43 percent of the total, benefiting more than 62 million people.
In addition to these achievements and the positive impact on the communities where we develop our business, our pioneering strategy is also generating good financial results: We posted a net attributable profit of €6.42 billion, mainly driven by Mexico, the country that contributes the most to the bank's results. It is also important to note that Spain is starting to return to 2010 levels, thanks to the normalization of interest rates and activity growth, following years of deleveraging, as well as the improvement in efficiency and credit quality.
We continued to create value for our shareholders. The return on tangible equity (ROTE) stood at 15.3 percent, and growth in tangible book value per share plus dividends paid was nearly 20 percent for the year.
These solid results allow us to distribute more than €3 billion, almost half of the profit, to our 800,000 shareholders, most of them small savers. We are proposing to the Annual General Meeting the distribution of a cash dividend of 31 euro cents per share, in addition to the 12 euros cents paid last October, as well as a new €422 million share buyback program.
Thanks to these results, we can also reinvest in the business, so we can continue to grow our customer franchise, reaching more people and businesses, improving service, extending credit and fostering decarbonization.
At BBVA, we are convinced that there are many opportunities in the current environment, despite the challenges that remain in 2023. The context of uncertainty will continue, both from a geopolitical standpoint as a result of the invasion of Ukraine, and from a financial standpoint due to inflation and the second-round effects, which could lead to additional interest rate hikes. Nevertheless, recent data, better than expected, seems to indicate that the economic outlook and growth will improve in 2023, as some of the uncertainties start to dissipate, with growth in practically all countries where we have a presence.
Beyond the more immediate context, major trends like innovation and sustainability will continue to transform the economy and our societies. For this reason, BBVA's anticipation and vision, and our strategic priorities give us a significant competitive advantage.
Innovation is a key factor in BBVA's profitable growth strategy. One example of this is the bank's firm commitment to digital banking solutions to grow in new and attractive markets, like the digital neobanks. At the end of 2021, we launched BBVA Italy, which already has 160,000 customers, exceeding our initial expectations. The creation of BBVA Spark in 2022 also stands out, offering a comprehensive package of financial services to accompany the innovative companies that are shaping the future throughout their different stages of growth. Furthermore, investment in venture capital allows us to know firsthand about new technologies and generate business for the future.
Just as we were leaders in taking advantage of the huge transformation brought about by digitization and innovation, we have another enormous opportunity before us: sustainability, the other pillar of our strategy.
As I have mentioned on previous occasions, the decarbonization of the economy represents the greatest disruption in history, not only due to the magnitude of the challenge, which requires colossal investments through 2050, but due to how urgently it must be addressed.
It is an enormous challenge that will bring change to practically all of our habits and behaviors, affecting all companies and industries, which will be profoundly transformed by the process.
Therefore, at BBVA, we have been taking steps in this direction for some time now. As a founding member of the Net Zero Banking Alliance, we made the commitment to be neutral in carbon emissions by 2050. We have been carbon neutral in terms of our own emissions for two years now, and we aspire to also be carbon neutral including the emissions of our customers and suppliers.
Our priority is to help our clients in their decarbonization transition, supporting them with advice and financing.
Sustainability is already translating into business, and is currently a key pillar of growth for the Group. In 2022, we channeled €50 billion of sustainable financing. This new business is growing so quickly that we tripled our initial sustainable finance goal to €300 billion for the period 2018-2025. All of this has made us the top ranked European bank in the Dow Jones Sustainability Index for the third consecutive year.
It has definitely been a great year for BBVA. One that has allowed us to make decisive progress in our strategy and to get closer to meeting the 2024 objectives we announced at the Investor Day.
Without a doubt, all of this was made possible thanks to the people who make up BBVA, with their professionalism, effort, dedication and commitment to our values: 'the customer comes first,' 'we think big' and 'we are one team.'
I would especially like to recognize the team for stepping up to help those affected by the earthquakes in Turkey, and those of you who are helping to alleviate this terrible situation with your contributions.
In conclusion, I cannot end this letter without thanking you once again for your trust over the past year. With your support, we will continue to accompany families and businesses in 2023, boosting growth to create a more sustainable and inclusive society.
Letter from the Chief Executive Officer
Dear shareholders,
Despite the uncertainty that characterized 2022, BBVA made enormous progress in its strategy for profitable growth, based on digitization, innovation and sustainability.
The BBVA Group's net attributable profit for 2022 was €6.42 billion, which represents an increase of 38 percent from a year earlier. This growth was mainly driven by a solid increase in revenues, an ongoing cost containment policy and greater asset quality.
Gross income, or the sum of the main revenue lines from the banking business, ended the year with 22.9 percent growth year-on-year at constant exchange rates (in other words, without taking into account the impact of exchange rates). The Group's main geographic areas contributed to this increase thanks to credit growth, which was boosted by the economic recovery and better customer spreads, as a result of an environment with more favorable interest rates.
This revenue growth, together with keeping expenses at bay, which have grown less than the average inflation rate in the countries where BBVA has a presence, place the efficiency ratio at 43.2 percent. This represents an improvement of 277 basis points over the ratio from the previous year. Therefore, BBVA remains a leader in efficiency yet another year compared to its European peers.
Operating income, or the difference between the revenue generated and the costs incurred, reached a record high of €14.13 billion, up 29.2 percent from the previous year, without taking currency fluctuations into account.
As for risk indicators, the NPL ratio stood at 3.4 percent at the end of the year, improving 70 basis points from the previous year, and the coverage rate rose from 75 percent in December 2021 to 81 percent. The cost of risk stood at 0.91 percent, in line with expectations and below pre-pandemic levels (1.04 percent in 2019).
The BBVA Group remains the leader in profitability metrics among comparable banks in Europe. In 2022, return on tangible equity was 15.3 percent, surpassing our European peers by far, which averaged 7.4 percent, while return on equity was 14.6 percent, excluding non-recurring items in both cases. Value creation for our shareholders is also reflected in the tangible book value per share plus dividends, which reached €7.79, an increase of 19.5 percent over the previous year. Once again, this puts us ahead of our competitors and our ambitious long-term goals.
These strong results have contributed to our excellent capital position, with a CET1 fully-loaded ratio of 12.61 percent. This is well above the requirement set by the supervisor and the Group's target range.
This year has also allowed us to make significant progress in the goals we set for 2024 at our Investor Day. We remain focused on profitable growth, and on being a unique bank for our customers, based on a value proposition that sets us apart.
Regarding the main business areas, I would like to underscore the following:
- Spain has benefited from GDP growth of 5.5 percent. This has translated into a 1.8 percent increase in the amount of credit granted throughout the year, driven by greater momentum in the most profitable segments: corporate and consumer loans. The area's profit rose to €1.68 billion, up 8.4 percent from the previous year.
- The economic situation in Mexico, with GDP growth of 3.1 percent in the year, has helped to boost activity in all business segments - both wholesale and retail. This greater momentum in activity resulted in highly significant growth in recurring revenue, which more than compensated for an increase in costs in a high inflation environment. This led to a net attributable profit of €4.18 billion, up 45 percent from a year ago at constant exchange rates.
- In Turkey, good business dynamics allowed for a net attributable profit of €509 million despite the application of hyperinflationary accounting. These results demonstrate the strength of our franchise in the country amid a complex macroeconomic environment. In this context, it is worth mentioning that all risk indicators performed well.
- In South America, the positive evolution of the main countries stands out: Argentina, Colombia and Peru, thanks to the performance of consumer and corporate portfolios and credit cards. The attributable result for the area rose to €734 million up 80 percent from the previous year at constant exchange rates, with a balanced contribution from the more relevant countries: €238 million from Colombia; €206 million from Peru; and €185 million from Argentina.
In short, BBVA's notable strengths, such as our leading franchises in attractive markets, our leadership in digitization and sustainability and the best team, are definitely what made these results possible.
For this reason, I would like to conclude by thanking the more than 115,000 people that are part of the BBVA team. None of this would have been possible without their dedication, hard work and commitment.
Finally, yet another year, I would like to reiterate my appreciation for all of you, our shareholders. Your constant support is fundamental to remain leaders, and it encourages us to give our best each and every day.
History of BBVA
The history of BBVA is the history of many different people; people who have been a part of the more than one hundred financial institutions that have joined our corporate journey since it first began in the mid-19th century. Today at BBVA, we work to create a better future for people. We seek to build long-lasting relationships with our customers that change the way we look at the business. As a result, BBVA has become a global leader and one of the most highly regarded banks in the world.
BBVA is firmly committed to the future and is a pioneer in adapting to the needs of an increasingly global market - especially to the banking industry of the 21st century.
Over 160 years of experience support this commitment.
The beginning
The history of BBVA dates back to 1857 in the city of Bilbao, in northern Spain, where the Board of Commerce promoted the founding of the Banco de Bilbao as an issuer and discount bank. It was a pioneering initiative at the time, driven by the region's economic growth. In fact, it was the city's only bank until the end of the 19th century.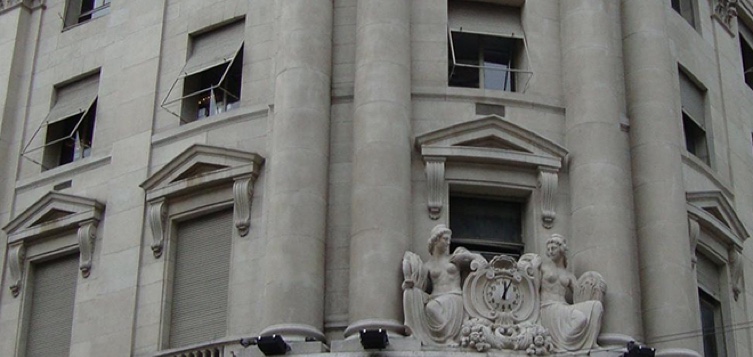 In the second half of the 19th century, Banco de Bilbao financed several important infrastructure and steel industry projects. In 1878, it lost the right to issue its own banknotes and was restructured as a loan and discount bank. Banco de Vizcaya was founded in 1901; it carried out its first transactions in Bilbao and little by little, began to expand across the country. Apart from its activity as a commercial and depositary bank, Banco de Vizcaya participated in the creation and development of a large part of Spanish industry. In 1902, Banco de Bilbao and the Banco de Comercio merged, although both institutions maintained their status as legal entities.
In 1909, Caja Postal was created as a public-law entity and in 1916, it began to issue and administer savings account passbooks.
A consortium of bankers and industrialists founded the Banco de Crédito Industrial (BCI) in 1920, for the express purpose of promoting the installation and consolidation of industries by granting long-term credits. Banco de Bilbao and Banco de Vizcaya were part of this consortium.
In 1923, the National Agricultural Credit Service was created. Under the umbrella of the Ministry of Agriculture, it granted loans to agricultural and livestock associations, under the joint and several liability of its associates.
The expansion
During the economic development of the 1960s, Banco de Bilbao acquired other banks and began to create a financial group. Meanwhile, Banco de Vizcaya continued to grow and establish itself as a modern, universal bank and an important financial group. More flexible rules on opening offices allowed the bank to expand its commercial network.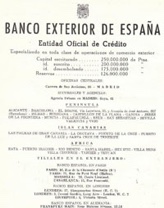 Caja Postal added more customer services, including checking accounts, stock purchases/sales, and lending in certain areas. The 1962 Banking Law nationalized BCI, BHE and BCL and transformed the National Agricultural Credit Service into the Banco de Crédito Agrícola (BCA). All four banks became entities governed by public law. But in 1971, they became official credit institutions (under the Law Regulating Official Credit) as limited companies.
In the 1980s, Banco de Bilbao based its strategy on reaching a size that would allow it to access the financial business that was emerging at the time from the technological advances, deregulation, securitization and the interplay between national and international markets. Banco de Vizcaya contributed to the rescue of banks that were affected by the economic crisis and developed a policy of strong growth through acquisitions, which led it to create a large banking group. Its most significant operation was its purchase of Banca Catalana in 1984.
Meanwhile, official credit institutions continued to expand their business through market operations. In 1982, BEX lost its exclusive rights to export credit, redirecting its business to universal banking, and forming a financial group. It acquired Banco de Alicante (1983) during this process. In 1988, Banco de Bilbao and Banco de Vizcaya merged to create BBV.
Corporación Bancaria de España was established in 1991 as a state-owned enterprise and credit institution with the status of a bank. Its history began with a federated banking model, but in 1988, Corporación Bancaria de España (now privatized through public offerings), BEX (merged with BCI), BHE and Caja Postal merged into a single bank under the brand Argentaria.
BBVA unified its network of offices in Catalonia in May 2013 after the acquisition of Unnim Banc was complete.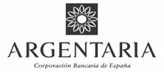 The merger of BBV and Argentaria
In an effort to continue adding value, BBV and Argentaria announced their merger on October 19, 1999, creating the new bank (BBVA). It was of a substantial size, with strong solvency, a large financial structure, ample geographic diversification of business and risks, and as a result, greater potential for raising its profits.
Customers now had access to an extensive distribution network, a wider range of products, new channels and a stronger international presence. Employees, meanwhile, had greater opportunities for professional development.
The integration of the two banks was exemplary for multiple reasons:
Strategic decisions were made quickly. The organizational structure was defined immediately and a framework agreement was established with workers.
Working groups were formed and plans for the different areas of activity were defined quickly.
Ambitious deadlines were met, sometimes ahead of schedule.
The effort benefited from the excitement, participation and team spirit shown by everyone in BBVA.
The integration process received a major boost when a single BBVA brand was adopted in January 2000. This allowed the bank to create an image based on its own unique identity in very little time. BBVA's integration process took place quickly and efficiently and concluded in February 2001.
The integration of the group's retail businesses in Spain (BBV, Argentaria, Banca Catalana, Banco del Comercio and Banco de Alicante) allowed the bank to take advantage of the potential offered by an extensive network of branches with the BBVA image.
Prestigious financial publications recognized the efficiency of BBVA's integration, naming it the best bank in the world (Forbes) and in Spain (The Banker) and in the year 2000, the best bank in Latin America (Forbes) and the best bank in Europe (Lafferty) in 2001.
The international group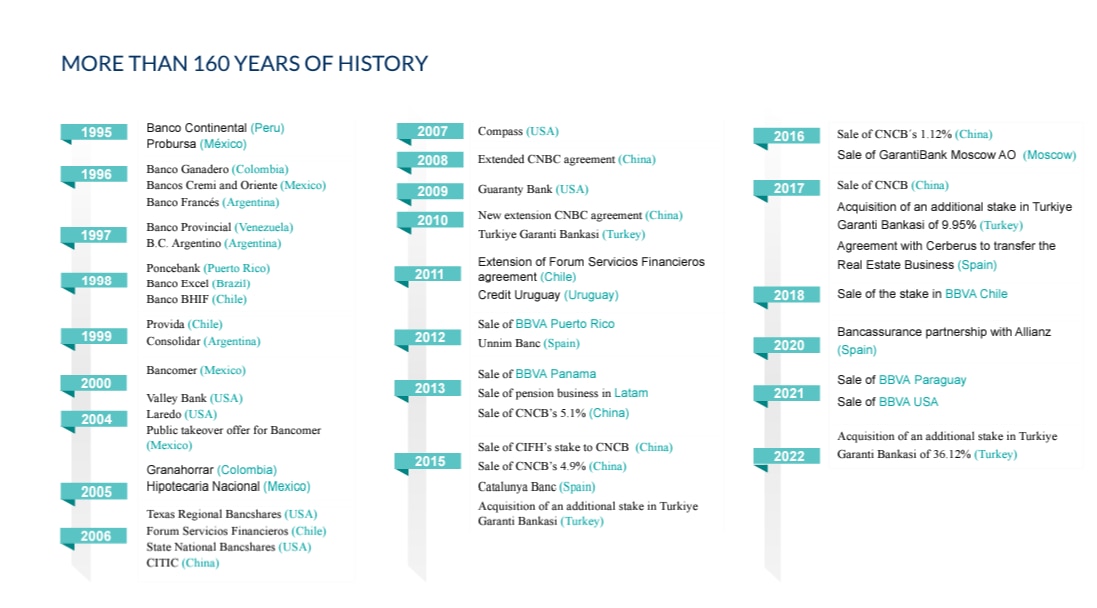 BBVA in the world
BBVA is a customer-centric global financial services group founded in 1857. The Group has a strong leadership position in the Spanish market, is the largest financial institution in Mexico and it has leading franchises in South America. It is also the leading shareholder in Turkey's Garanti BBVA and has an important investment, transactional and capital markets banking business in the U.S. Its purpose is to bring the age of opportunities to everyone, based on our customers' real needs: provide the best solutions, helping them make the best financial decisions, through an easy and convenient experience. The institution rests on solid values: Customer comes first, we think big and we are one team. Its responsible banking model aspires to achieve a more inclusive and sustainable society.

Data at the end March 2023. Those countries in which BBVA has no legal entity or the volume of activity is not significant, are not included
Basic data
Relevant data of the BBVA Group (consolidated figures) at 31-03-2023. This section contains all the updated quarterly figures on the balance sheet and income statement, and other relevant data.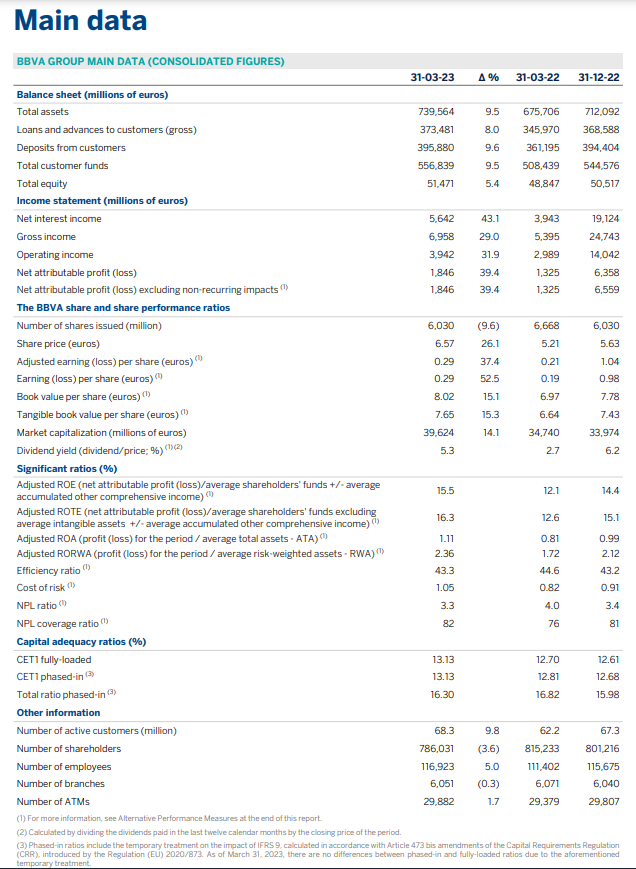 More financial information is available on the Shareholders and Investors website.
Organizational chart
BBVA Organizational chart
Organizational structure
At the end of 2018, the Board of Directors of BBVA approved a new organizational structure to foster the Group's transformation, while further specifying responsibilities for executive roles.
The main aspects of the new organizational structure are as follows:
- The Chair is responsible for the management and proper functioning of the Board of Directors, the supervision of the Group's management, institutional representation, and leading the Group's strategy and transformation process.
The areas reporting directly to the Chair are those related to key levers in the transformation: Engineering, Talent & Culture and Data; as well as those related to the Group's strategy: Strategy & M&A, Communications, and the figure of Senior Advisor to the Chair; and areas related to legal issues and the Board: Legal and Secretary General.
- The Chief Executive Officer (CEO) is in charge of the daily management of the Group's businesses, reporting directly to BBVA's Board of Directors.
Reporting to the CEO are the business units in the different countries, Corporate & Investment Banking, Client Solutions and Sustainability, as well as the following global functions: Finance, which includes the functions of accounting and taxes, and Global Risk Management.
Additionally, certain control areas are given greater independence, reporting directly to the Board of Directors through its corresponding committees. These control areas include Internal Auditing and the newly created Regulation & Internal Control, an area in charge of relations with regulators and supervisors, monitoring and analysis of regulatory trends, and developing the Group's regulatory agenda, and managing compliance-related risks.
Strategy
In 2019, BBVA carried out a process of strategic reflection to further deepen its transformation and adapt to the major trends reshaping the world and the financial services industry:
A challenging macroeconomic outlook that was characterized back then by rising uncertainty at a global level, lower economic growth, low interest rates, greater regulatory requirements, geopolitical tensions and the emergence of new risks (cybersecurity, etc.).
An evolution in clients' behaviors and expectations. Customers are demanded more digital, simple and personalized value propositions, based on expert advice, to make the best decisions.
A strong competitive environment, where digitization was already a common priority for banks and the role of big tech companies and ecosystems was rising, offering financial services within their global solutions and an excellent customer experience.
Society was concerned about achieving a sustainable and inclusive world. Climate change was a reality and all stakeholders (consumers, companies, investors, regulators and public institutions) had made achieving a more sustainable world a priority. The transition toward this sustainable world had major economic implications and the financial sector had to play a very active role to ensure the success of this evolution.
Data had become a key differentiating factor. Data management produced solid competitive advantages as it made it possible to offer customized value propositions, improve automation to drive efficiency and reduce operational risks. Data also entailed the management of new risks with relevant implications in terms of privacy, security, ethics, etc.
In this context, BBVA's strategy has evolved with six strategic priorities which aim to accelerate and deepen the Group's transformation and the achievement of its purpose.
Our purpose and strategic priorities
In this context, BBVA's strategy has evolved with six strategic priorities that aim to accelerate and deepen the Group's transformation and the achievement of its purpose:'to bring the age of opportunity to everyone.'
1. Improving our clients' financial health
Help our clients, through personalized advice, make better decisions and manage their finances to achieve their life and business goals.
2. Helping our clients transition toward a sustainable future
Progressively align our activity with the Paris Agreement and use our role to help our clients transition toward a more sustainable future inspired by selected Sustainable Development Goals.
3. Reaching more clients
Accelerate profitable growth by being where clients are, leveraging our digital channels and those of third parties.
4. Driving operational excellence
Provide the best customer experience with simple, automated processes and maintaining our approach on robust risk management and optimal capital allocation.
5. The best and most engaged team
A diverse and empowered team guided by our purpose, values, and behaviors, propelled by a talent development model that creates growth opportunities for all.
6. Data and technology
Advanced data analytics coupled with secure and reliable technologies to build distinctive high-quality solutions and deliver on our strategy.
Our Values
The BBVA Group engaged in an open process to identify the Group's values, which took on board the opinion of employees from across the Group's global footprint and various units. These values define our identity and are the pillars for making our Purpose a reality:
The customer comes first
BBVA has always been customer-oriented, but the customer now comes first before everything else. The bank aspires to take a holistic vision of customers that goes beyond financial aspects. This means working with empathy, agility and integrity, among other things.
We are empathetic: we take the customer's viewpoint into account from the outset, putting ourselves in their shoes to better understand their needs.
We have integrity: we always act with honesty, in accordance with the law and BBVA' internal regulations. Inappropriate behavior is not tolerated and we always put customer interests' first.
We meet their needs: we are swift, agile and responsive in resolving the problems and needs of our customers, overcoming any difficulties we encounter.
We think big
It is not about innovating for its own sake but instead to have a significant impact on people's lives, enhancing their opportunities. The BBVA Group is ambitious, questioning everything, and not settling for doing things reasonably well, but instead always striving for excellence.
We are ambitious: we set ourselves ambitious and aspirational challenges to have a real impact on people's lives.
We break the mold: we question everything we do to discover new ways of doing things, innovating and testing new ideas that enable us to learn.
We amaze our customers: we seek excellence in everything we do in order to amaze our customers, creating unique experiences and solutions that exceed their expectations.
We are one team
People are what matters most to the Group. All employees are owners and share responsibility in this endeavor. We break down silos and trust others as we do ourselves. We are BBVA.
I am committed: I am committed to my role and my objectives. I feel empowered and fully responsible for delivering them, working with passion and enthusiasm.
I trust others: I trust others from the outset and work generously, collaborating and breaking down silos between areas and hierarchical barriers.
I am BBVA: I feel ownership of BBVA. The bank's objectives are my own and I do everything in my power to achieve them and make our purpose a reality.
Sustainability and responsible banking model
According to the definition established by the United Nations, BBVA understands sustainable development (or sustainability in general) as meeting the needs of the present generation without compromising the ability of future generations to meet their own needs.
BBVA tackles the challenge of sustainable development from a holistic perspective. The bank is aware that, by carrying out its purpose of bringing the age of opportunity to everyone, as well as helping customers in the transition to a sustainable future, it seeks to have a positive impact through the activities of its customers, its own activity and its relationship and commitments to society.
The commitment to sustainability, responsible banking and the creation of long-term value for all stakeholders is reflected in the bank's various policies, particularly in the General Sustainability Policy.
BBVA's main focuses of action in the area of sustainability are as follows:
-The fight against climate change and the protection of natural capital, in such a way that it acts as a driver of the joint global effort to accelerate the change towards a net-zero emissions economy by 2050, and of the preservation of natural capital.
-Inclusive growth, in which BBVA acts as a catalyst for change, increasing the well-being and economic growth of society, leaving no one behind and bringing the age of opportunity to everyone.
The global Sustainability area, among other matters, is responsible for designing and promoting the execution of BBVA's strategic sustainability agenda and business development in this field; establishing sustainability objectives; and promoting and coordinating the different lines of work in this area, developed by the different areas. In this way, the execution of the sustainability strategy is cross-cutting in nature; it is the responsibility of all its areas to progressively incorporate it into their strategic agenda and work dynamics. The area is responsible for publicizing BBVA's sustainability principles and objectives and advising the different executive areas responsible so that they can be implemented and integrated into their activities and internal regulations.
Sustainable finance
Banks play a crucial role in the fight against climate change and in achieving the United Nations Sustainable Development Goals thanks to their unique ability to mobilize capital through investments, loans, issuance and advisory functions. There are very effective ways to help tackle these challenges. First, by providing innovative solutions to help customers transition to a low-carbon economy and promote sustainable finance. And second, by systematically incorporating social and environmental risk into their decision-making processes.
In 2019, BBVA carried out a strategic reflection process in order to continue deepening its transformation and adapting to the greatest trends that are changing the world and the finance industry. Two of the biggest trends that were identified are the fight against climate change and the rising significance of social inclusion. In this context, the strategic plan approved by the bank's Board of Directors in 2019 aims to accelerate this transformation and the fulfillment of its purpose: to bring the age of opportunity to everyone. This plan consists of six strategic priorities, including "to help our customers and clients in the transition toward a sustainable future" and "to improve our customers' financial health".
For BBVA, sustainability is already a driver of growth. In November 2022, the bank once again raised its sustainable finance target to €300 billion between 2018 and 2025, tripling its initial objective.
Community Commitment
BBVA's 2021-2025 Community Commitment puts the focus on communities or groups experiencing vulnerability, inequality or a lack of protection.
The ultimate goal of the plan is to provide resources, support and tools to improve the lives of these people, thus contributing to inclusive growth; and to ensure that the benefits of economic growth are distributed throughout society, creating opportunities for everyone and leaving no one behind.
In the 2021-2025 period, BBVA and its foundations will allocate €550 million to social initiatives to support inclusive growth in the countries where it has a presence. It is the bank's most ambitious social plan to date.
Through a variety of initiatives, BBVA will support five million entrepreneurs, help more than three million people receive a quality education, and provide financial education to one million people. Furthermore, the BBVA Microfinance Foundation will grant over €7 billion in microcredit. These programs will reach a total of 100 million people during this period.
This 2021-2025 plan aims to respond to the most important social challenges in each region. BBVA's Community Commitment complements the commitment to channel €300 billion in sustainable finance in the 2018-2025 period.
This plan has three lines of action: reducing inequality and promoting entrepreneurship; creating opportunities for everyone through education; and supporting research and culture.
Community investment
Through its social programs, BBVA acts as a driver of opportunity for people, aims to have a positive impact on their lives, and to deliver on its purpose of bringing the age of opportunity to those facing the greatest difficulties: the vulnerable.
BBVA carries out its social programs within the framework of multi-annual community investment plans in all countries where the Group has a presence. Over 35 million people benefited from the last plan for 2016 - 2019. In addition, in 2020, apart from continuing its social programs, BBVA also helped to alleviate the effects of COVID-19 with its social response plan. A total of 12.2 million people directly benefited.
BBVA channels its social investment through its local banks and corporate foundations, contributing to the development of the societies where we have a presence. The foundations play a fundamental role in channeling a vital part of the Group's social investment initiatives.
- The BBVA Foundation focuses on promoting knowledge, culture, the dissemination of science and art, and the recognition of talent and innovation. Its activities can be grouped into five strategic areas: environment; biomedicine and health; economy and society; basic sciences and technology; and culture. In each of these areas it designs, develops and finances research projects - involving individuals or teams; facilitates advanced and specialized training through scholarships, courses, seminars and workshops; awards prizes to researchers and professionals who have made significant contributions to the advancement of knowledge; and communicates and disseminates this knowledge through publications and conferences.
- The BBVA Microfinance Foundation is a non-profit organization established in 2007 by BBVA within the framework of its corporate social responsibility to support vulnerable people with small businesses. It has a budget of €200 million and over 160 years of experience. Its objective is to promote the economic, social, sustainable and inclusive development of these entrepreneurs, creating opportunities for them to improve their quality of life. For this, it uses a proprietary methodology called "Productive Finance", a full range of both financial and non-financial services, such as training and advice designed to help them progress over time. .Training, reducing the digital divide and gender gap, and environmental sustainability are strategic priorities that are covered, with digitization and impact measurement as tools to ensure that no one is left behind. It is the top foundation in Latin America for its contributions to development, and second in the world, according to data published by the Organisation for Economic Cooperation and Development (OECD).
Financial education
BBVA believes in the potential of financial education as a key element to improve financial health, and contribute to the transition toward a more sustainable economy - the bank's strategic priorities.
One of the lines of work under BBVA's commitment to the community is the 2021-2025 Global Financial Education Plan, which aims to train two million people and reach 50 million people who access BBVA's content on this subject. It will be implemented in all countries where BBVA has a presence, and consists of three lines of action on financial education: for society, to support business and to foster collaboration.
BBVA's Global Financial Education Plan is in line with the 'Financial competence framework for adults in the European Union' recently published by the European Commission and the OECD. The bank also joined the United Nations global commitment to promote financial health and inclusion.
In 2008, the bank launched its first Global Financial Education Plan, and since then until 2022, has offered training programs on financial knowledge and skills in all countries where it has a presence.
As of December 31, 2022, 17.4 million people had received training in financial education, and over 37.8 million have accessed specialized content available on digital platforms. During this period, BBVA invested more than €97.3 million in financial education programs around the world, and over 5.200 BBVA employees participated in financial education programs as volunteers.
BBVA's Code of Conduct
The Code of Conduct establishes the behavioral guidelines that, according to the principles of the BBVA Group, ensure that conduct adheres to the internal values of the Organization. To this end, it establishes the duty to respect applicable laws and regulations for all its members in an integral and transparent manner, with the diligence and professionalism that correspond to the social impact of financial activity and to the trust that shareholders and customers have placed in BBVA.
The Code was approved by the BBVA Board of Directors on February 9, 2022.
BBVA's Whistleblower Channel
A fundamental mechanism to guarantee the effective application of the regulations and guidelines of the Code of Conduct is the Whistleblower Channel, through which not only BBVA employees, but also other third parties not belonging to the BBVA Group can can confidentially and, if they wish, anonymously report any conduct that does not adhere to the Code of Conduct or that violates applicable legislation, including human rights-related complaints.
The Compliance area will handle complaints diligently and promptly. The information will be analyzed objectively and impartially and the identity of the whistleblower will be kept confidential. Those who report facts or actions in good faith through the Whistleblower Channel will not be subject to retaliation or suffer adverse consequences for this communication.
This Channel allows you to maintain, if you wish, a dialogue with the Manager of your complaint. For this purpose, we have designed a system (secure mailbox) that will allow you to communicate with BBVA, preserving your anonymity at all times.
The Whistleblower Channel is available 24 hours a day, 365 days a year from any computer or cell phone.
If you observe or someone informs you of an action or situation related to BBVA that may be contrary to the regulations or the values and guidelines of our BBVA Code of Conduct, please report it through:
Submit report on Whistleblowing Channel
The Whistleblower Channel is not the appropriate channel for dealing with customer complaints.
BBVA's tax strategy
BBVA's corporate principles for tax issues and fiscal strategy, approved by the Board of Directors.
U.S. Patriot Act
The USA Patriot Act is a U.S. law approved in 2001 following the September 11th terrorist attacks. Its main purpose is to increase government control to fight terrorism and improve different U.S. security agencies' capacities through coordination and granting the agencies greater monitoring power.
One of the ways in which the USA Patriot Act combats terrorism is by monitoring banks to prevent money laundering, a source of funding for terrorist groups.
According to the requirements of the USA Patriot Act, all banks located outside the U.S. that wish to engage in or maintain international relations with a U.S. bank or broker/dealer are required to provide certain information about the nature of their business and their supervision.
That's how the USA Patriot Act applies to BBVA.
Global USA PATRIOT ACT Certificate – PDF Document / (2745 KB)
Global USA PATRIOT ACT Certificate for use by any financial institution that provides, or could provide services to any institution in the BBVA Group or the entire BBVA Group.
FATCA
The Foreign Account Tax Compliance Act (FATCA) is a law introduced by the U.S. Department of Treasury and Internal Revenue Service (IRS) to encourage enhanced tax compliance and transparency with respect to U.S. citizens or residents. FATCA requires financial institutions around the world to identify U.S. persons that have foreign bank accounts, among others, and report them to the U.S. tax authorities. To ensure compliance, a 30 percent withholding tax will be imposed on certain payments to non-compliant institutions and individuals.
BBVA, along with its subsidiaries and branches, is committed to helping guarantee international tax compliance while maintaining high standards of customer data security. BBVA is therefore proactively implementing changes in its current business practices to ensure compliance with FATCA.
BBVA institutions affected by FATCA have already been registered with the IRS and will appeal in the next official IRS list of participating financial institutions.
FATCA requires financial institutions across the globe to fulfill certain requirements:
Identify the following customers with a BBVA account:

U.S. citizens or residents
U.S. corporations
Certain legal institutions, mainly private equity entities owned by U.S. citizens

Report information on account holders listed above to the IRS or local tax authorities. This information includes:

Personal information: name, address and U.S. Tax Identification Number (US TIN)
Account information: account number, account balance and payments made or received in the account

Withhold 30 percent from account holders on certain payments from the U.S. (mainly interest and dividends) that fail to comply with FATCA.
However, It is not expected that FATCA will affect most of BBVA's customers. FATCA entered into force on July 1, 2014. Reporting began in 2015.
Please note that BBVA does not provide tax advice. If required, we recommend that our customers seek independent advice on FATCA from a professional tax advisor. BBVA and its subsidiaries are not liable for any errors, omissions or opinions contained within this document.
BBVA Due Diligence
Know more about our regulatory framework, financials reports, Corporate Governance and Corporate Integrity Models.