Corporate information
Dear shareholders,
2022 was a year of significant geopolitical and economic challenges, but the strength of BBVA and all of its franchises, the effort and dedication of our team, together with our leadership in strategic areas such as innovation and sustainability, have allowed us to grow in a profitable and sustainable manner, contributing to the economic and social growth of the communities where we have a presence.
We added over 11 million new customers worldwide. Our rate of growth increases every year. The pace at which we acquire new customers has more than doubled from five years ago. This enormous progression is due to the fact that we were pioneers, and made a decisive commitment to digitization. Currently, 55 percent of new customers join the bank through digital channels.
Furthermore, we are increasingly using new technologies and data so our customers can make better decisions, and thus improve their financial health. Our clients are increasingly satisfied with our service, as evidenced by the net promoter score (NPS), which grew five percentage points over the past year, placing us as a leader in our footprint.
Today we serve almost 70 million customers, contributing with our main activity, granting credit, to meet their personal, family and business needs, while supporting their economic growth and the development of more prosperous and inclusive communities.
In 2022, we increased the amount of credit granted by 13 percent, helping more than 100,000 families to purchase their home and financing the growth of almost half a million SMEs and the self-employed, and more than 70,000 larger companies, thereby promoting job creation. Moreover, we mobilized over €9 billion to finance inclusive growth initiatives, including infrastructure, social mortgages and insurance policies. We have also supported vulnerable entrepreneurs with microcredits through programs like those of the BBVA Microfinance Foundation.
We amplify the impact with our Community Commitment, which we announced in 2021, by which we will devote €550 million to social initiatives by 2025, together with our foundations. By the end of 2022, we had already surpassed €230 million, 43 percent of the total, benefiting more than 62 million people.
In addition to these achievements and the positive impact on the communities where we develop our business, our pioneering strategy is also generating good financial results: We posted a net attributable profit of €6.42 billion, mainly driven by Mexico, the country that contributes the most to the bank's results. It is also important to note that Spain is starting to return to 2010 levels, thanks to the normalization of interest rates and activity growth, following years of deleveraging, as well as the improvement in efficiency and credit quality.
We continued to create value for our shareholders. The return on tangible equity (ROTE) stood at 15.3 percent, and growth in tangible book value per share plus dividends paid was nearly 20 percent for the year.
These solid results allow us to distribute more than €3 billion, almost half of the profit, to our 800,000 shareholders, most of them small savers. We are proposing to the Annual General Meeting the distribution of a cash dividend of 31 euro cents per share, in addition to the 12 euros cents paid last October, as well as a new €422 million share buyback program.
Thanks to these results, we can also reinvest in the business, so we can continue to grow our customer franchise, reaching more people and businesses, improving service, extending credit and fostering decarbonization.
At BBVA, we are convinced that there are many opportunities in the current environment, despite the challenges that remain in 2023. The context of uncertainty will continue, both from a geopolitical standpoint as a result of the invasion of Ukraine, and from a financial standpoint due to inflation and the second-round effects, which could lead to additional interest rate hikes. Nevertheless, recent data, better than expected, seems to indicate that the economic outlook and growth will improve in 2023, as some of the uncertainties start to dissipate, with growth in practically all countries where we have a presence.
Beyond the more immediate context, major trends like innovation and sustainability will continue to transform the economy and our societies. For this reason, BBVA's anticipation and vision, and our strategic priorities give us a significant competitive advantage.
Innovation is a key factor in BBVA's profitable growth strategy. One example of this is the bank's firm commitment to digital banking solutions to grow in new and attractive markets, like the digital neobanks. At the end of 2021, we launched BBVA Italy, which already has 160,000 customers, exceeding our initial expectations. The creation of BBVA Spark in 2022 also stands out, offering a comprehensive package of financial services to accompany the innovative companies that are shaping the future throughout their different stages of growth. Furthermore, investment in venture capital allows us to know firsthand about new technologies and generate business for the future.
Just as we were leaders in taking advantage of the huge transformation brought about by digitization and innovation, we have another enormous opportunity before us: sustainability, the other pillar of our strategy.
As I have mentioned on previous occasions, the decarbonization of the economy represents the greatest disruption in history, not only due to the magnitude of the challenge, which requires colossal investments through 2050, but due to how urgently it must be addressed.
It is an enormous challenge that will bring change to practically all of our habits and behaviors, affecting all companies and industries, which will be profoundly transformed by the process.
Therefore, at BBVA, we have been taking steps in this direction for some time now. As a founding member of the Net Zero Banking Alliance, we made the commitment to be neutral in carbon emissions by 2050. We have been carbon neutral in terms of our own emissions for two years now, and we aspire to also be carbon neutral including the emissions of our customers and suppliers.
Our priority is to help our clients in their decarbonization transition, supporting them with advice and financing.
Sustainability is already translating into business, and is currently a key pillar of growth for the Group. In 2022, we channeled €50 billion of sustainable financing. This new business is growing so quickly that we tripled our initial sustainable finance goal to €300 billion for the period 2018-2025. All of this has made us the top ranked European bank in the Dow Jones Sustainability Index for the third consecutive year.
It has definitely been a great year for BBVA. One that has allowed us to make decisive progress in our strategy and to get closer to meeting the 2024 objectives we announced at the Investor Day.
Without a doubt, all of this was made possible thanks to the people who make up BBVA, with their professionalism, effort, dedication and commitment to our values: 'the customer comes first,' 'we think big' and 'we are one team.'
I would especially like to recognize the team for stepping up to help those affected by the earthquakes in Turkey, and those of you who are helping to alleviate this terrible situation with your contributions.
In conclusion, I cannot end this letter without thanking you once again for your trust over the past year. With your support, we will continue to accompany families and businesses in 2023, boosting growth to create a more sustainable and inclusive society.
Letter from the Chief Executive Officer
Dear shareholders,
Despite the uncertainty that characterized 2022, BBVA made enormous progress in its strategy for profitable growth, based on digitization, innovation and sustainability.
The BBVA Group's net attributable profit for 2022 was €6.42 billion, which represents an increase of 38 percent from a year earlier. This growth was mainly driven by a solid increase in revenues, an ongoing cost containment policy and greater asset quality.
Gross income, or the sum of the main revenue lines from the banking business, ended the year with 22.9 percent growth year-on-year at constant exchange rates (in other words, without taking into account the impact of exchange rates). The Group's main geographic areas contributed to this increase thanks to credit growth, which was boosted by the economic recovery and better customer spreads, as a result of an environment with more favorable interest rates.
This revenue growth, together with keeping expenses at bay, which have grown less than the average inflation rate in the countries where BBVA has a presence, place the efficiency ratio at 43.2 percent. This represents an improvement of 277 basis points over the ratio from the previous year. Therefore, BBVA remains a leader in efficiency yet another year compared to its European peers.
Operating income, or the difference between the revenue generated and the costs incurred, reached a record high of €14.13 billion, up 29.2 percent from the previous year, without taking currency fluctuations into account.
As for risk indicators, the NPL ratio stood at 3.4 percent at the end of the year, improving 70 basis points from the previous year, and the coverage rate rose from 75 percent in December 2021 to 81 percent. The cost of risk stood at 0.91 percent, in line with expectations and below pre-pandemic levels (1.04 percent in 2019).
The BBVA Group remains the leader in profitability metrics among comparable banks in Europe. In 2022, return on tangible equity was 15.3 percent, surpassing our European peers by far, which averaged 7.4 percent, while return on equity was 14.6 percent, excluding non-recurring items in both cases. Value creation for our shareholders is also reflected in the tangible book value per share plus dividends, which reached €7.79, an increase of 19.5 percent over the previous year. Once again, this puts us ahead of our competitors and our ambitious long-term goals.
These strong results have contributed to our excellent capital position, with a CET1 fully-loaded ratio of 12.61 percent. This is well above the requirement set by the supervisor and the Group's target range.
This year has also allowed us to make significant progress in the goals we set for 2024 at our Investor Day. We remain focused on profitable growth, and on being a unique bank for our customers, based on a value proposition that sets us apart.
Regarding the main business areas, I would like to underscore the following:
- Spain has benefited from GDP growth of 5.5 percent. This has translated into a 1.8 percent increase in the amount of credit granted throughout the year, driven by greater momentum in the most profitable segments: corporate and consumer loans. The area's profit rose to €1.68 billion, up 8.4 percent from the previous year.
- The economic situation in Mexico, with GDP growth of 3.1 percent in the year, has helped to boost activity in all business segments - both wholesale and retail. This greater momentum in activity resulted in highly significant growth in recurring revenue, which more than compensated for an increase in costs in a high inflation environment. This led to a net attributable profit of €4.18 billion, up 45 percent from a year ago at constant exchange rates.
- In Turkey, good business dynamics allowed for a net attributable profit of €509 million despite the application of hyperinflationary accounting. These results demonstrate the strength of our franchise in the country amid a complex macroeconomic environment. In this context, it is worth mentioning that all risk indicators performed well.
- In South America, the positive evolution of the main countries stands out: Argentina, Colombia and Peru, thanks to the performance of consumer and corporate portfolios and credit cards. The attributable result for the area rose to €734 million up 80 percent from the previous year at constant exchange rates, with a balanced contribution from the more relevant countries: €238 million from Colombia; €206 million from Peru; and €185 million from Argentina.
In short, BBVA's notable strengths, such as our leading franchises in attractive markets, our leadership in digitization and sustainability and the best team, are definitely what made these results possible.
For this reason, I would like to conclude by thanking the more than 115,000 people that are part of the BBVA team. None of this would have been possible without their dedication, hard work and commitment.
Finally, yet another year, I would like to reiterate my appreciation for all of you, our shareholders. Your constant support is fundamental to remain leaders, and it encourages us to give our best each and every day.
History of BBVA
The history of BBVA is the history of many different people; people who have been a part of the more than one hundred financial institutions that have joined our corporate journey since it first began in the mid-19th century. Today at BBVA, we work to to bring the age of opportunity to everyone.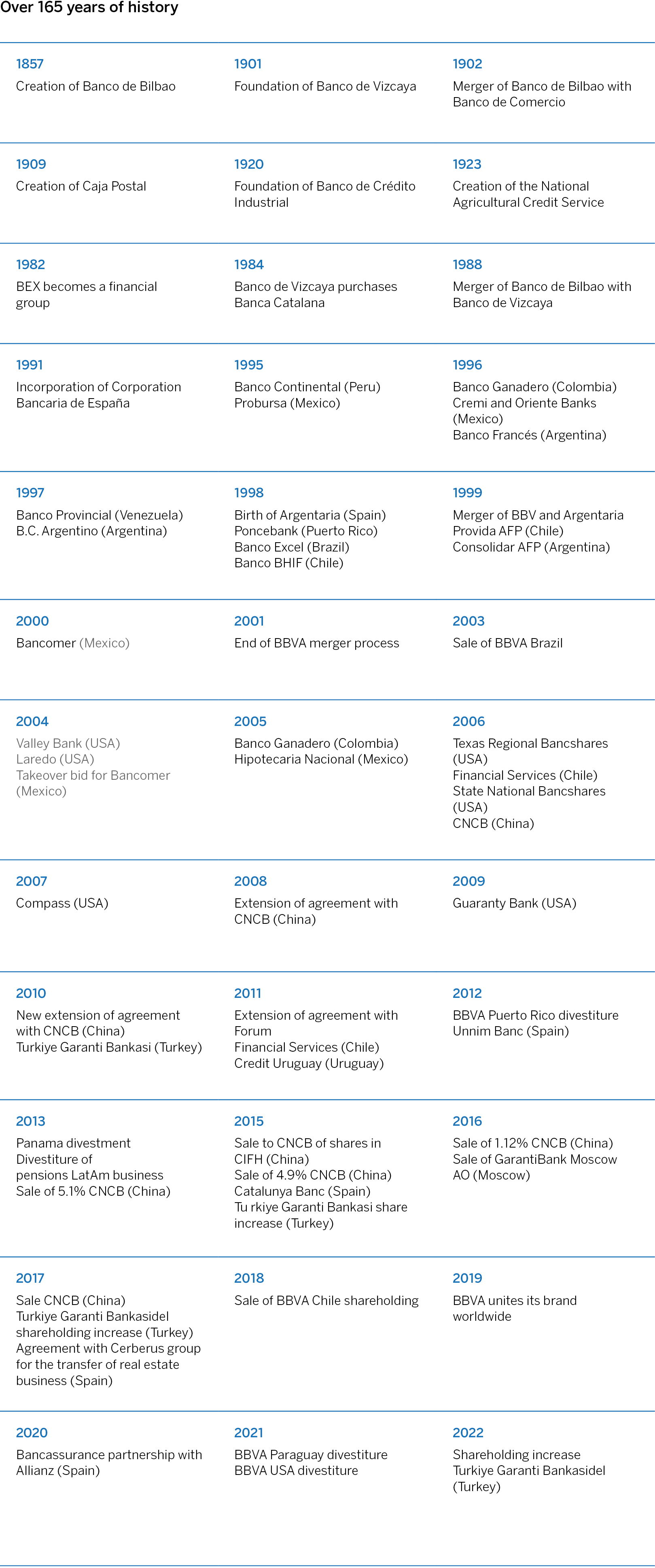 BBVA in the world
BBVA is a global financial services group founded in 1857. The bank is present in more than 25 countries, has a strong leadership position in the Spanish market, is the largest financial institution in Mexico and it has leading franchises in South America and Turkey.
BBVA contributes with its activity to the progress and welfare of all its stakeholders: shareholders, clients, employees, providers and society in general. In this regard, BBVA supports families, entrepreneurs and companies in their plans, and helps them to take advantage of the opportunities provided by innovation and technology. Likewise, BBVA offers its customers a unique value proposition, leveraged on technology and data, helping them improve their financial health with personalized information on financial decision-making.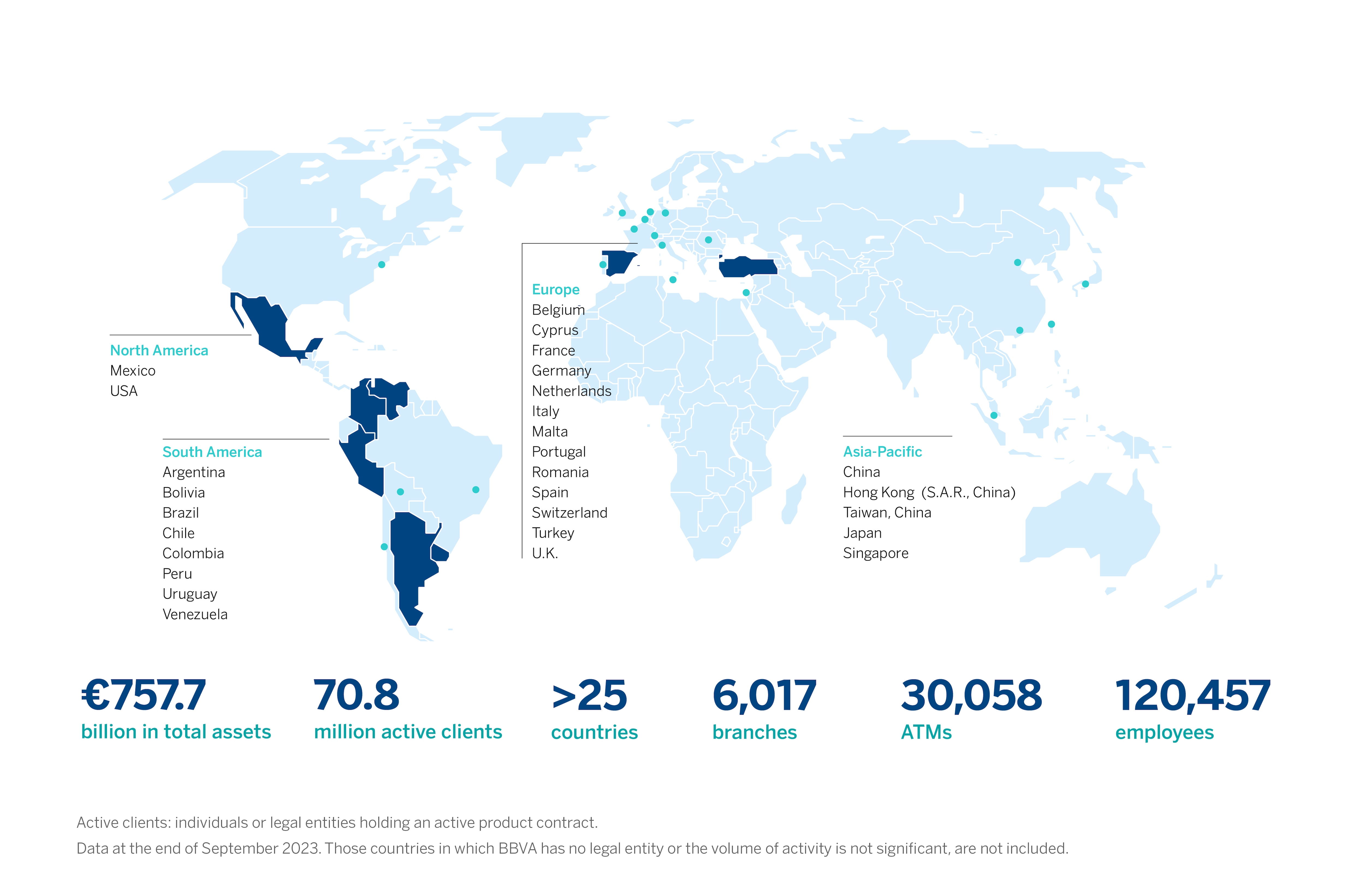 Basic data
Relevant data of the BBVA Group (consolidated figures) at 30-09-2023. This section contains all the updated quarterly figures on the balance sheet and income statement, and other relevant data.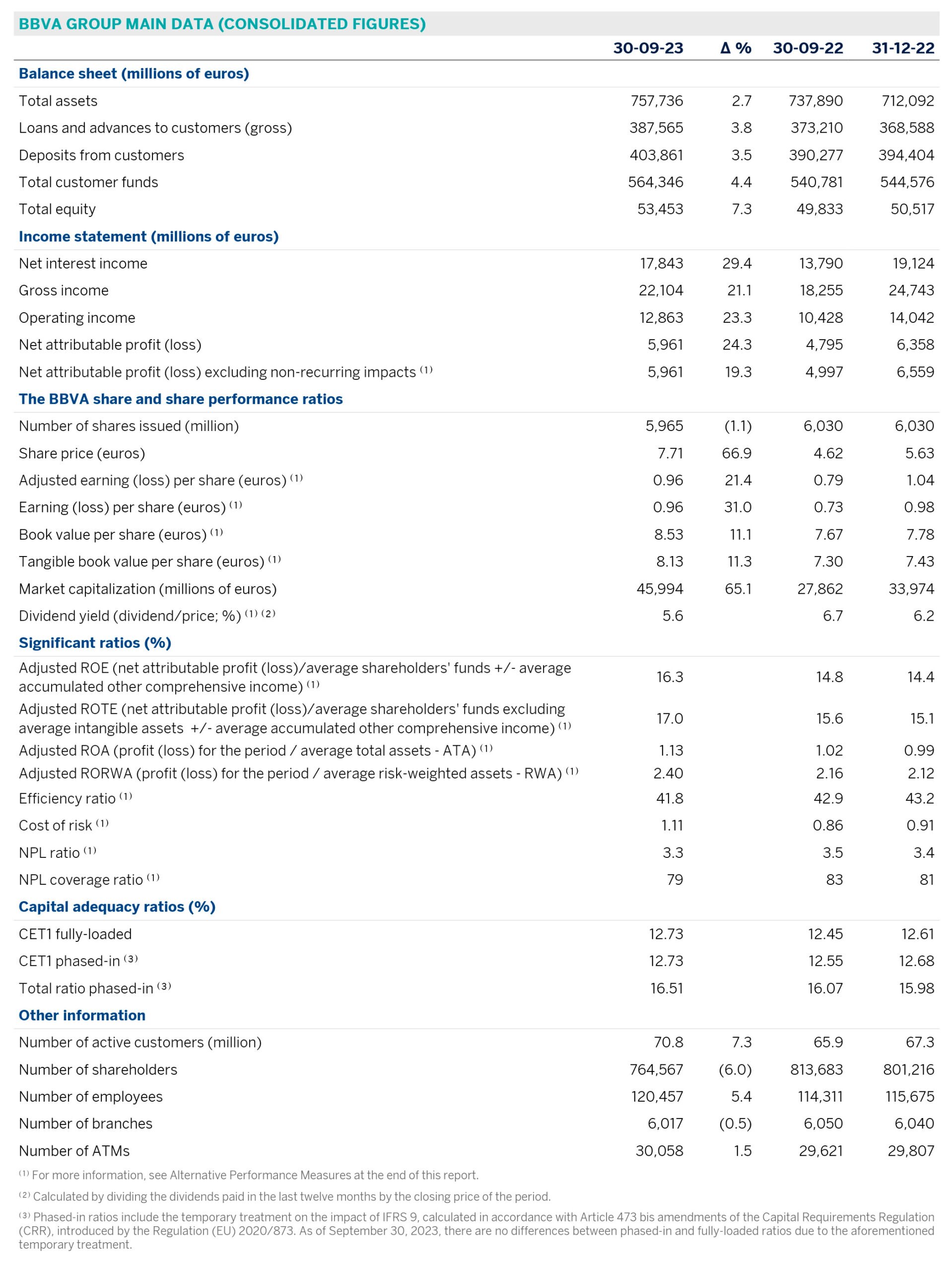 More financial information is available on the Shareholders and Investors website.
Organizational chart
BBVA Organizational chart
Organizational structure
BBVA's organizational structure meets the objective of continuing to promote the transformation and businesses of the Group, while advancing in the delimitation of executive functions.
The Chair is responsible for the management and proper functioning of the Board of Directors, the supervision of the Group's management, institutional representation, and leading the Group's strategy and transformation process. Meanwhile the Chief Executive Officer (CEO) is in charge of the daily management of the Group's businesses, reporting directly to BBVA's Board of Directors.
Additionally, certain control areas (Internal Audit and Regulation & Internal Control) report directly to the Board of Directors through its corresponding committees.
Strategy
BBVA's strategy is based on three global trends with a critical role in the transformation of the economy: digitization, innovation and decarbonization.
Firstly, digitization. People's behavior continues to move not only to digital and mobile channels, but also to large value ecosystems offered by the main technology companies with a differentiated customer experience.
Secondly, innovation. The role of new technologies continues to play a critical function in the transformation of the economy, with a great impact on growth and productivity. A true era of opportunities thanks to the new possibilities offered by new technologies such as artificial intelligence, quantum computing, cloud processing, blockchain technology, etc.
Lastly, decarbonization is clearly a differential trend in the current environment and the greatest disruption in history due to its strong impact on the competitive dynamics of many sectors. Innovation plays a key role in the decarbonization process, a challenge that requires strong investments in new carbon-neutral technologies in all sectors, beyond energy. This challenge is of great importance today in a context that has shown that high energy dependence can be a strong vulnerability. Energy independence has become a priority beyond the fight against climate change.
Purpose and values
BBVA's strategy revolves around a single Purpose: "To bring the age of opportunity to everyone". Thanks to innovation and technology, BBVA seeks to have a positive impact on the lives of people and on the businesses of companies, providing access to products, advice and solutions that allow its customers to make better decisions about their finances and achieve their vital and business purposes.
Likewise, the Group is based on solid values: customer comes first, we think big and we are one team. These values and their associated behaviors are the guide for action in all decisions made by all the people who are part of the BBVA Group and help them make the Purpose come true:
The customer comes first
BBVA places customers at the center of its activity, before anything else. The Bank aspires to take a holistic customer vision, not just financial. This means working in a way which is empathetic, agile and with integrity, among other things.
We are empathetic: we take the customer's viewpoint into account from the outset, putting ourselves in their shoes to better understand their needs.
We have integrity: we always act honestly, in accordance with the law and BBVA's rules and policies. We do not tolerate inappropriate behavior and always put the customer's interests first
We meet their needs: we are swift, agile and responsive in resolving the problems and needs of our customers, overcoming any difficulties we encounter..
We think big
It is not about innovating for its own sake but instead to have a significant impact on the lives of people, enhancing their opportunities. BBVA Group is ambitious, constantly seeking to improve, not settling for doing things reasonably well, but instead seeking excellence as standard.
We are ambitious: we set ourselves ambitious and aspirational challenges to have a real impact on people's lives.
We break the mold: we question everything we do to discover new ways of doing things, innovating and testing new ideas which enables us to learn.
We amaze our customers: we seek excellence in everything we do in order to amaze our customers, creating unique experiences and solutions which exceed their expectations.
We are one team
People are what matters most to the Group. All employees are owners and share responsibility in this endeavor. We tear down silos and trust in others as we do ourselves. We are BBVA.
I am committed: I am committed to my role and my objectives and I feel empowered and fully responsible for delivering them, working with passion and enthusiasm.
I trust others: I trust others from the outset and work generously, collaborating and breaking down silos between areas and hierarchical barriers.
I am BBVA: I feel ownership of BBVA. The Bank's objectives are my own and I do everything in my power to achieve them and make our Purpose a reality.
Strategic priorities
Guided by its Purpose and values, BBVA's strategy is structured around six strategic priorities:
1 - Improving our clients' financial health
BBVA aspires to be its customer's trusted financial partner, helping them to improve their financial health by offering personalized advice based on technology and the use of data.
Money management is one of the greatest concerns for people. BBVA wants to help its customers improve their financial health in two ways:
On the one hand, by supporting them in the day-to-day management of their finances, helping them understand and be aware of their income and expenses, management of future needs, capacity to save, etc.
On the other hand, helping clients to make the best financial decisions to achieve their vital and business goals in the medium and long term through personalized advice.
2 - Helping our customers transition toward a sustainable future
Climate change is a challenge that urgently needs to be addressed, but it is also a major business opportunity for the financial sector. The decarbonization of the economy will have an impact on all industries and on the way people move, consume or furnish their homes, requiring significant investments that will last for decades to come.
Additionally, the Bank has an opportunity in the development of inclusive growth. The current environment, with high digitization and use of data, makes it easier to provide an efficient service and with a better understanding of customer behavior. This environment allows the development of new business opportunities that favor inclusive economic development, supporting disadvantaged sectors and inclusive infrastructures, as well as mass banking leveraged on digital channels and new relationship models.
3 - Reaching more customers
Scale is increasingly critical in the banking business. BBVA aims to accelerate profitable growth, supporting itself through its own channels and where the customers are (in third-party channels).
In this sense, BBVA has identified the payments, insurance, asset management and cross-border business activities of companies as key drivers of profitable growth, as well as the value segments of SMEs and private banking.
The key role of innovation in the growth of BBVA implies the Group's firm commitment to new business models such as digital neobanks and the creation of BBVA Spark, that offers a comprehensive proposal of financial services to accompany companies innovative in its different phases of growth.
4 - Driving operational excellence
BBVA is committed to providing the best experience possible and is transforming its model of customer relations to adapt to changes in customer behavior. To do so, it provides access to its products and services through simple processes. The role of the commercial network is increasingly more focused on transactions of greater added value for customers. Interactions of lower added value are redirected to self-service channels, thus reducing unit costs and increasing productivity.
The transformation of the relational model is accompanied by a change in the operational model, focused on process reengineering in the search for greater automation and improved productivity, as well as speedy delivery to the market of new products and functionalities.
This is not forgetting disciplined management of both financial and non-financial risks and optimized use of capital key factors for consistently achieving a return higher than the cost of capital.
5 - The best and most engaged team
The team continues to be a strategic priority for the Group. A diverse and empowered team, with an outstanding culture, guided by the BBVA Purpose and values and driven by a model of talent development which provides growth opportunities for all.
BBVA works to promote the growth and training of the people who make up the Group, who have the necessary skills, knowledge and experience to achieve strategic objectives efficiently and effectively. Also to ensure that employees live the values and behaviors of the Group. People want to be part of companies that are inspired by purpose, with an engaging culture and values that foster diversity, inclusion, equality, social impact, and recognition of work.
6 - Data and technology
Data and technology are obvious accelerators to achieve our strategy. The commitment to developing advanced data analysis capacities, together with secure and reliable technology, allows the creation of outstanding high-quality solutions that help create competitive advantages.
The use of data and new technologies also generates the opportunity for increasingly global processes which can be used in the different geographies and are easily scalable.
Sustainable and responsible business model
In 2019, BBVA undertook a strategic rethinking process to further enhance its transformation and adapt to the key trends that are changing the world and the finance industry. Two of the primary trends identified are the fight against climate change and the growing importance of social inclusion. In this context, the strategic plan approved by the bank's Board of Directors in 2019 seeks to accelerate this transformation and the achievement of its purpose. The plan encompasses six strategic priorities, including "helping customers transition to a sustainable future" and "improving the financial health of our customers."
The fight against climate change poses one of the greatest disruptions in history, with unprecedented economic consequences. All actors in our global community (governments, regulators, companies, consumers and society in general) have to adapt to these changes.
The commitment to sustainability, responsible banking and the creation of long-term value for all stakeholders is reflected in the bank's various policies. Specifically, BBVA's Sustainability Policy sets out and establishes the general principles and main objectives and guidelines for the Group's management and control in the area of sustainable development. The policy seeks to achieve a balanced approach to economic development, social development and environmental protection.
BBVA has two key focuses of action in the sustainability domain:
The fight against climate change and the protection of natural capital as drivers of the joint global effort to accelerate the shift to a net-zero emissions economy by 2050.
Inclusive growth, where BBVA catalyzes change, thereby enhancing the well-being and economic growth of society, leaving no one behind and bringing the age of opportunities to everyone.
Based on these two focuses of action, BBVA has set three strategic sustainability objectives:
Boost the growth of the Group's business through sustainability. Identify new opportunities, innovate by developing sustainable products and offer guidance to individuals and enterprises, while embedding sustainability risks in the Group's management processes.
Achieve greenhouse gas emission neutrality. Reduce the Group's direct emissions and indirect emissions by helping customers to cut their own emissions, thus achieving net zero by 2050 at the latest, in line with the more ambitious goals of the Paris Agreement.
Promote integrity in our relationship with stakeholders. Ensure a responsible relationship with our customers and suppliers, promote diversity and inclusion in our team, enhance transparency and encourage investment in the community.
The global Sustainability area is responsible for designing and supporting the execution of BBVA's strategic sustainability agenda and the development of business in this area, setting sustainability targets, and driving and coordinating the lines of work in this sphere conducted by the various areas. Therefore, implementing the sustainability strategy is a cross-cutting endeavour. It is the responsibility of all areas to progressively integrate sustainability into their strategic agenda and work dynamics. The area is responsible for raising awareness of BBVA's sustainability principles and aims while advising the executive units in charge of implementing them and ensuring that they are embedded in their activities and internal procedures.
Sustainable finance
Banks play a pivotal role in the fight against climate change and in achieving the United Nations Sustainable Development Goals, thanks to their unique position to mobilize capital through investment, lending, issuance and advisory functions. There are a number of key ways in which we can contribute to this challenge. First, by providing innovative solutions to customers to help them transition to a low-carbon economy and by supporting sustainable finance. Secondly, we systematically mainstream social and environmental risks into our decision-making.
For BBVA, sustainability is already a lever for growth. In November 2022, BBVA again raised its sustainable mobilization target to €300 billion between 2018 and 2025, a threefold increase over the initial target.
Commitment to the community
BBVA's 2021-2025 community commitment focuses on communities or groups in conditions of vulnerability, inequality or lack of protection.
The ultimate goal of the plan is to provide resources, tools and support to improve the lives of disadvantaged people and thus contribute to inclusive growth. We seek to ensure that the benefits of economic growth are distributed fairly across society, thereby creating opportunities for everyone and leaving no one behind.
In the period 2021-2025, BBVA and its foundations will allocate €550 million to social initiatives to support inclusive growth in the countries where it is present. This is the most ambitious social plan launched to date by the bank.
Through a range of initiatives, BBVA will support five million entrepreneurs, help more than three million people receive a quality education and train one million people in financial literacy. In addition, the BBVA Microfinance Foundation will provide more than €7 billion in microloans. In total, these programs are expected to reach 100 million people during this period.
The 2021-2025 plan strives to respond to the key social challenges in each region. BBVA's community commitment is complementary to its pledge to channel €300 billion in sustainable finance over the 2018-2025 period.
The 2025 Community Commitment addresses four areas of action: reducing inequality and promoting entrepreneurship; creating opportunities for everyone through education; supporting research and culture; and encouraging volunteering among employees:
Reducing inequality and promoting entrepreneurship
BBVA undertakes initiatives to reduce social and economic inequality and promote entrepreneurship. The bank also promotes the financial inclusion of unbanked communities, and improves the financial health and resilience of people with limited access to financial services or those who are underserved.
Such activities include: support for low-income entrepreneurs through the BBVA Microfinance Foundation and other programs to support entrepreneurs, training in financial literacy to empower the population, promotion of financial inclusion, employability and digitalization, and social assistance programs for Ukraine war refugees.
BBVA supports vulnerable entrepreneurs through various initiatives. One of the key players in this regard is the BBVA Microfinance Foundation, which closed 2022 cementing its position in the microfinance sector and celebrating 15 years of activity in which it has served more than six million entrepreneurs  in five Latin American countries. For the fourth consecutive year, it has been recognized by the Organization for Economic Cooperation and Development (OECD) as the leading foundation in terms of contribution to development in Latin America.
Financial education and literacy: At BBVA we believe in the potential of financial literacy as a key driver to improve financial health and aid the transition to a more sustainable economy. The 2021-2025 Global Financial Education Plan aims to train two million people and reach 50 million people receiving BBVA content on this subject. The plan, deployed in all countries within BBVA's footprint, has three lines of action in financial education: for society, to support businesses, and to encourage collaboration. In 2008, the bank launched its first Global Financial Education Plan. From then until 2022, BBVA has offered training programs in financial knowledge and skills in all the countries where it is present.
War in Ukraine: In 2022 BBVA launched a community response plan to Russia's invasion of Ukraine to help alleviate the effects of the humanitarian emergency triggered by the war.
Creating opportunities for everyone through education
BBVA offers a wide range of initiatives to promote access to high-quality education. This includes programs to reduce the digital education gap, scholarships for access to high-quality education, and programs for the development of values and skills and in support of higher education and vocational training.
In addition, the bank partners with public education systems to create free, high-quality content that is distributed through a range of channels.Key initiatives in the field of education included:
Aprendemos juntos 2030, a project recognized by the United Nations for its contribution to the SDGs. The contents of this initiative are related to a greener and more inclusive future and include the involvement of leading international figures.
Chavos que Inspiran: The BBVA Mexico Foundation focuses its activities on education through its flagship program "Chavos que Inspiran" (Kids who Inspire). This initiative aims to transform the lives of young people with limited resources through scholarships and mentoring for 10 years. As a result of this project, it is estimated that 8 out of 10 scholarship recipients will be the first in their families to graduate from university, rise above the poverty line and achieve a socio-economic level that would otherwise have been unattainable for four generations.
Educación Conectada is an initiative launched in 2020 by BBVA and the Fad Juventud Foundation in Spain, which aims to reduce the digital divide in the education system by promoting the digitalization of the entire educational community, from school management and teachers to families and students.
Support for research and culture
BBVA develops, mainly through the BBVA Foundation ("BBVAF"), various initiatives to support researchers and creators in the fields of science, culture and business, cultural reference institutions and scientific dissemination. The direct promotion of scientific research is one of the levers on which the FBBVA relies, along with the recognition of talent through awards such as the BBVA Foundation Frontiers of Knowledge Award.
Volunteering
The bank's corporate volunteering initiatives promote the collaboration of employees to generate a significant social impact, increase pride in belonging, satisfaction and productivity, and position BBVA as a benchmark company in corporate volunteering, increasing its attractiveness to existing and potential employees.
BBVA's Code of Conduct
The Code of Conduct establishes the behavioral guidelines that, according to the principles of the BBVA Group, ensure that conduct adheres to the internal values of the Organization. To this end, it establishes the duty to respect applicable laws and regulations for all its members in an integral and transparent manner, with the diligence and professionalism that correspond to the social impact of financial activity and to the trust that shareholders and customers have placed in BBVA.
The Code was approved by the BBVA Board of Directors on February 9, 2022.
BBVA's Whistleblower Channel
A fundamental mechanism to guarantee the effective application of the regulations and guidelines of the Code of Conduct is the Whistleblower Channel, through which not only BBVA employees, but also other third parties not belonging to the BBVA Group can can confidentially and, if they wish, anonymously report any conduct that does not adhere to the Code of Conduct or that violates applicable legislation, including human rights-related complaints.
The Compliance area will handle complaints diligently and promptly. The information will be analyzed objectively and impartially and the identity of the whistleblower will be kept confidential. Those who report facts or actions in good faith through the Whistleblower Channel will not be subject to retaliation or suffer adverse consequences for this communication.
This Channel allows you to maintain, if you wish, a dialogue with the Manager of your complaint. For this purpose, we have designed a system (secure mailbox) that will allow you to communicate with BBVA, preserving your anonymity at all times.
The Whistleblower Channel is available 24 hours a day, 365 days a year from any computer or cell phone.
If you observe or someone informs you of an action or situation related to BBVA that may be contrary to the regulations or the values and guidelines of our BBVA Code of Conduct, please report it through:
Submit report on Whistleblowing Channel
The Whistleblower Channel is not the appropriate channel for dealing with customer complaints.
BBVA's tax strategy
BBVA's corporate principles for tax issues and fiscal strategy, approved by the Board of Directors.
BBVA Due Diligence
Know more about our regulatory framework, financials reports, Corporate Governance and Corporate Integrity Models.