A review of the year's big winners in the fintech universe reveals China's growing role in the world's digital economy.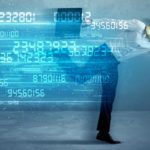 If there's one thing that accurately describes tech startups, it's that they're constantly evolving. Big successes vanish quickly and those who seemed insignificant become sector leaders overnight. But there are some trends that are starting to consolidate. A review of the fintech companies that took the quantum leap in 2017 shows that China is taking charge: of the five big corporate success stories, three come from the Asian giant.
Qudian: small loans, big business
Founded in 2014, the fintech company Qudian is an example of success, and not only because of its impressive Wall Street debut. In the largest IPO of a Chinese company in the U.S., Qudian's shares rose 19% on October 18, its first day of trading.
Beyond its fluctuations in the stock market (the share price declined during the days that followed), Qudian, with a market capitalization of $7 billion, can be proud of its solid results. The company has been profitable since 2016; in the first half of 2017, its revenues increased fivefold to $270 million, and its net income totaled $144 million.
With the ecommerce giant Alibaba among its shareholders, Qudian operates a mobile microcredit platform for students and young workers. Starting from the equivalent of $60, the company finances everything from concert tickets to smartphones. It's a target group that does not have easy access to traditional credit lines, but is significant in size: according to the documentation from the IPO, Qudian has more than seven million customers.
Transferwise, profitable and more international
In the fast-paced fintech world, a company founded in London in 2011 like TransferWise can seem ancient. But 2017 was an especially important year for its growth.
The main reason is the company's May announcement that it had become profitable for the first time. TransferWise has more than one million customers and estimated annual revenues of approximately £100 million (around €112 million).
The company also received two major financial boosts in 2017. In the spring, a group of investors (including the billionaire Richard Branson) contributed $117 million to the company and at the end of the year, the London-based company raised $280 million in another funding round  to finance its international expansion in Latin America and Asia. It is estimated that the company is now worth more than €1.5 billion. An IPO is not part of its immediate plans.
Credit Karma: information is money
Credit Karma is the other fintech company that became profitable in 2017, in its case after 10 years. The company made the announcement in the middle of the year, shortly after the website TechCrunch reported that Credit Karma had raised $175 million in a funding round, making the company worth $3.5 billion.
Credit Karma's star product is a free credit report. It has 70 million users, half of which are millennials. Based on their credit score and their goals, the company recommends products and financial strategies. But how does it make money? Credit Karma acts as an intermediary between its customers and the financial institutions, to which it charges a commission for its qualified references.
Data are without a doubt at the heart of this California-based startup, which plans to launch new products to collect even more data and offer it to financial institutions.
Lufax is gearing up for an IPO
Founded in Shanghai in 2012, Lufax's first product was peer-to-peer loans. Since then, the company has become more sophisticated, to the point of transforming itself into a complete online financial supermarket. By mid-year, 200,000 loans had been granted on its platform, worth a total of $2.5 billion. The company is valued at $18.5 billion.
In 2017, Lufax's giant leap was launching operations in Singapore, which allows its customers in continental China to invest in international markets through exchange-traded funds (ETFs). The company has ambitious predictions: it expects to bring in investments ranging between $50,000 and $100,000. Its IPO will have to wait for now, in part due to the Chinese government's changing regulations for online loans.
ZhongAn, the first "insurtech" to trade in a large financial center
Whatever the future holds for ZhongAn, the Chinese company can always be proud of being the first "insurtech" – a term that defines technological insurance companies – to trade in a large financial market. It debuted on September 26 in the Hong Kong stock market and it got off to a great start: ZhongAn shares rose 29% in the first month.
Founded four years ago by three Chinese corporate giants – Alibaba, the telecom Tencent and the insurance company Ping An – ZhongAn is 100% digital and lacks the cultural baggage of traditional insurance companies. Furthermore, its products and services are completely adapted to the needs of a 21st -century consumer and cover everything from online purchases to broken cell phone screens. It's no surprise that its original business was covering risks associated with online financial transactions.