Changes to Turkey's banking legislation herald a new stage that will see customers increasingly shifting towards digital banking. In anticipation, Garanti BBVA - the bank that spearheaded the development of online banking in the country - has digitized its entire customer onboarding process and allows banking transactions to be carried out easily, quickly and safely.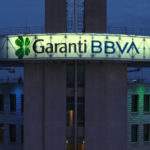 The new legislation will soon become effective. To enjoy a more convenient experience, users can download the Garanti BBVA Mobile application which will allow them to easily open a bank account, following the steps indicated in the option for becoming a customer.
When entering the required data, users will be required to take a photo of both sides of their new chip-enabled identity card. This allows users to scan the card using their handheld's NFC technology. Upon finalizing the biometric verification step, customers will be asked to contact the customer service via video chat to undergo an identification process. Once completed, the user becomes a customer without having to visit a branch or waiting for a letter to arrive, and can immediately start enjoying all the products and services available on Garanti BBVA Mobile.
"True to its pioneering spirit in the world of banking, Garanti BBVA keeps adapting to the new normal."
Işıl Akdemir Evlioğlu, Executive Vice President of Garanti BBVA, noted that "banking is one of the sectors where digitization and transformation are taking place at a more intensive and faster pace." The vice president pointed out that the pandemic has put banking - and many other sectors - to the test, and that the new normal emerging in its wake will take the banking business to the next level.
And Garanti BBVA is determined to make a difference in this new stage. While waiting for new legislation, the bank worked hard to upgrade customer experience and develop the appropriate technical tools. The customer onboarding process, debuted in 2019 with the launch the bank's mobile app, will become 100 percent digital.
Işıl Akdemir stated that "on top of bringing increased convenience to millions of peoples' lives, we will be able to provide a significantly more comprehensive financial consulting service." The vice president also summarized the bank's vision and strategy, which envisages digital channels becoming something more than mere platforms enabling transactions and product applications. The goal is to provide a service that establishes a bond built on trust and smart interactions with customers. "I believe that, thanks to the robustness provided by our technological infrastructure, customers will notice the great level of convenience that Garanti BBVA is capable of offering them in this new age," concluded the vice president.