Jerome Glenn: "With artificial intelligence we are free to invent our future"
Futurist Jerome Glenn, CEO of Millennium Project, urges companies and governments to be proactive in the face of technological advances and outlines three different scenarios in which artificial intelligence can determine the course of society.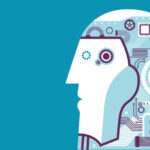 "From the studies that I've done from the 40 last years, when I update the data, the data keeps getting better and better and better. We are winning more than that we are losing. So that means we have no right to be pessimistic. But we have no right to go to sleep either. But it means we are free to invent our future." Jerome Glenn, CEO of Millennium Project, visited Madrid to present the study: 'Future Work/ Technology 2050'.
During his talk at Espacio Fundación Telefónica, Glenn, one of the heads of the Millennium think tank that connects 63 nodes around the world that analyzes the global challenges that can affect humanity, shared his insights about progress in Artificial Intelligence (AI) and what it will mean for employment.
He defined three types of artificial intelligence: limited AI, which, for example, we can find in our mobile or smart home appliances; the general AI, which has the capacity to learn on its own and is currently not available to the general public but is, for example, for the US Department of Defense or NASA; and the super AI, the one about which science fiction warns us, robots capable of setting their own goals regardless of what humans think.
By 2030, according to Glenn, the so-called general artificial intelligence will be within reach of most of the population. Quantum computers will make everything to go faster and synergies between different technologies are going to be pivotal. "Who would have thought years ago that the future of the phone was going to be a video camera?" asked Glenn. The expert stressed that a classic way of making wealth is putting things in different combinations that people want and that right now "we've got a lot of stuff to put new combinations that people want." In the future, added the CEO of Millennium Project, "we are going to try many things thanks to computer science and we will learn much faster."
Three possible scenarios
The futurist outlined three scenarios for 2050 with artificial intelligence: the first one, it's complicated, a mixed bag where good and bad decisions are made, with some people working things out and others organizing themselves in criminal gangs; the second assumes that current political, cultural, ideological and religious stalemates continue and get worse; and the third, in which if we are capable of making the transition to the world of artificial intelligence in an orderly way we are freer.
To ensure that the scenario our future takes place in is the third one and not the other two, Glenn urged institutions to take immediate action so that unemployment, which may be affected in the short term by the arrival of machines, and inequality do not win the game. He advocated that governments create a cash flow forecast to face the new ecosystem that these machines will create when they go mainstream: "Robots are going to be new things to tax, so the income stream of the states will go up dramatically." The economist also argued that although "the cost of living is still going up a bit, all these new technologies will ultimately give you more value at less cost, and the costs are to go down."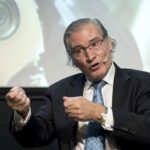 Jerome Glenn during his talk at Espacio Fundación Telefónica. - Espacio Fundación Telefónica
Glenn pointed out that if technologies are used to meet our basic needs, society will move towards a self-actualization economy. "We can enhance this economy in which machines, rather than destroy employment, allow us to constantly reinvent ourselves," says the expert, or look the other way "and let AI baffle us, causing more inequality and social gap."
A self-actualization future
If society opts for the first thing: "We will move from an job-based culture to an 'self-actualization' economy. Today, the value we represent is determined by the work we have: I am an economist and I teach at a university, I am a software engineer and I work for a bank ..." In the future, according to the researcher, "we are going to have to change the way we conceive what we are worth". And he used himself as an example: "No one hired me to create the Millennium project, we just wanted to connect the world, I reinvented myself and we made it possible."
The economist stressed that it is possible to enhance the human brain to create "augmented geniuses." And stressed that society has to wake up to the change that artificial intelligence will bring: "The Spanish Government should declare tomorrow AI an education goal," challenged the expert.
Glenn concluded: "The best entrepreneurs are going to tell you that they followed their passion and that they took many risks pursuing that dream. I think we can reduce risks thanks to new technologies. There is a very pleasant future ahead of us: 9 billion people being who they want to be. "People who, according to the expert, if they are smart enough, will be able to work in what they like.
However, warned the expert, governments are already late to this revolution: and they need to move quickly to make up for the lost time or risk seeing second apocalyptic scenario become a reality.