BBVA brings its investment in decarbonization funds to €108 million
BBVA is investing $25 million (€23.6 million¹) in climate fund Decarbonization Partners Fund I, which raises the bank's total investment in climate-related funds to €108.4 million. The bank is actively contributing to the decarbonization of the economy through its participation in funds of this kind.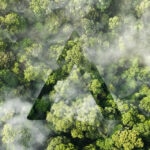 "At BBVA, we believe that sustainability is an enormous business opportunity. In this regard, we are also expecting financial returns from these investments. Becoming an investment partner in these types of funds will allow us to learn valuable lessons from companies, business models and projects that address high impact solutions in processes that emit CO2 and other greenhouse gasses," remarked Javier Rodríguez Soler, Global Head of Sustainability & CIB at BBVA.
"These investments will make us trailblazers in financing innovative companies and business models in the realm of decarbonization," he explained.
Decarbonization Partners is a joint venture of BlackRock and Temasek. Its first fund, Decarbonization Partners Fund I, invests in a portfolio of late-stage venture capital and early-stage growth private companies whose activities and technologies aim to accelerate decarbonization and the transition toward a carbon neutral economy.
It targets four structural trends: Clean and reliable energy generation and storage; electrification of mobility, industry and buildings; substitution with green materials; shift to a resource efficient, circular and digital economy.
The fund mainly invests in decarbonization solutions that can be expanded to an industrial scale, as well as those that can help decarbonize hard-to-abate sectors.
Javier Rodríguez Soler: "These investments will make us trailblazers in financing innovative companies and business models in the realm of decarbonization"
As a strategic investor, BBVA will work closely with the Decarbonization Partners team to propel possible financing operations for these new decarbonization ecosystems, while also strengthening ties with BlackRock and Temasek.
Being a pioneer in these projects will allow BBVA to acquire unique knowledge of the business opportunity and of the risks and offer its clients unique advice.
The investment in Decarbonization Partners is part of BBVA's sustainability strategy and investment in climate funds. In September 2023, the bank reached $45 million of investment in Lowercarbon funds. In July 2023, it announced an investment of €4 million in Suma Capital, a fund specialized in the energy transition and circular economy. In June 20203, BBVA announced a $20 million investment in Just Climate. In October 2022, the bank invested €10 million in the world's largest clean hydrogen fund, managed by Hy24. In July 2022, BBVA announced its investment in Fifth Wall, specialized in technologies to decarbonize the construction trade and real estate sector.
¹At the Q3 23 closing exchange rate set by the bank: 1.0594