BBVA supports ACCIONA in its first loan tied to sustainability targets
BBVA acted as a sustainable agent, together with Santander, in ACCIONA's first sustainable syndicated loan of €675 million. In this type of financing, the interest rate is adjusted based on the company's performance in sustainability parameters.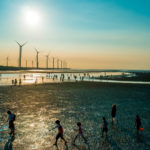 ACCIONA had its debut in the sustainable financing market with a loan that will have a discounted interest rate if ACCIONA improves on its current sustainability rating, or a penalty if its rating declines - in both cases based on a threshold. RobecoSAM is the independent verification firm in charge of annually measuring any changes in the company's sustainability rating. This company focuses exclusively on sustainable finance products, including the development and monitoring of corporate sustainability indexes. The loan is one of the first governed by the Sustainability Linked Loan Principles (SLLP), with adjustments to the interest rate based on the company's performance in sustainability parameters.
Santander and BBVA both acted as sustainability agents for the loan, and both banks, together with Intesa, Crédit Agricole, Unicredit and Natwest acted as bookrunners for the operation, as well as 17 other participating financial institutions. The financing is for an initial period of five year, with two possible one-year extensions. It will be used to cover the cost of debt maturing in 2019 and 2020 - primarily bonds.
With this financing, Acciona improves the cost of financing and its maturity schedule, while consolidating its commitment to performance in sustainability.
BBVA, a leader in sustainable finance
As a sign of its firm commitment to the fight against climate change, BBVA approved its Pledge 2025 in 2018 through which the bank will mobilize €100 billion from now until 2025 in green financing, sustainable infrastructure, social entrepreneurship and financial inclusion. The bank has the capacity, knowledge and experience to provide its clients superior advisory services for sustainable financial solutions and is playing a key role in developing this market.
BBVA has been a pioneer and the dominant player in the sustainable loan business. Today it is one of the most active organizations on the world stage in this field and the indisputable leader in Spain and Italy. In the past two years, BBVA has taken the lead on 30 sustainable finance engagements in Europe and the Americas for customers in various sectors. It also was the entity that acted on more occasions as coordinator and / or sustainable agent in 2018.
2018 proved to be a year of consolidation for green, social and sustainable bonds. As an issuer, BBVA approved its framework for sustainable bonds tied to UN SDGs and successfully concluded inaugural green bond issues by BBVA and BBVA Bancomer, as well as Garanti's first gender bond. As a placement and structuring agent, BBVA has maintained its leadership in this market, participating in 13 operations as a bookrunner.
Also in 2018, the bank made further inroads in its goal to help its corporate clients with their sustainable finance strategies. In an unprecedented move in the industry, the bank has developed a sustainable framework for transactional products – a framework tied to the United Nations SDGs. The new methodology facilitates the classification of its clients' transactional banking operations designating them green, social, or sustainable.