BBVA sees the challenge of diversity as one of the most important strategic pillars of its corporate culture and a wealth to be promoted. To this end, BBVA Switzerland is joining the Group's diversity and equality initiatives with a new project with WeBloom, a Swiss organization dedicated to diversity, inclusion and sustainability in science and technology.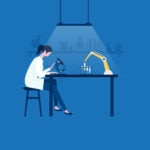 In recent years, BBVA has become a benchmark in sustainability, promoting various projects around the world aimed at transforming the world into a greener and more inclusive one. To demonstrate its commitment and promote equal opportunities from within the bank to society as a whole, the bank has implemented a series of initiatives to help different groups with greater difficulties. Moreover, this year it has also committed to reaching a target of having 35% of women in management positions by 2024. Thanks to its work, BBVA has been included in the Bloomberg Gender Equality Index for five consecutive years and, in 2021, Euromoney recognized it as one of the three best banks when it comes to diversity.
As in so many other areas of daily life, gender stereotypes, although obsolete, are still present in the world of finance. This problem is reflected in considerable gender gaps in financial decision-making and in third-party asset management. As part of the Group's commitment to inclusion and based on its experience in the investment world, BBVA Switzerland has decided to take a step forward by promoting and sponsoring 'Tech in Bloom', a discussion space created together with WeBloom, an organization led by Hilda Liswani that promotes diversity, inclusion and sustainability in the technology and financial sector in Switzerland.
For this first meeting, which took place at the offices of the Group's subsidiary in Switzerland, the bank was joined by the inspirational Patrizia Laeri, CEO and co-founder of elleXX, a new platform focused on improving the financial health of women. The financial institution encourages the creation of spaces for reflection and the exchange of ideas such as this one. Tech in Bloom is intended to be the first in a series of events that will bring together different personalities from Switzerland's business community to discuss the main obstacles to professional development that exist in the STEM field. With the creation of this network of partners and collaborators, the power of diversity will be harnessed to transform the technological and financial ecosystems, driving environmental and social outcomes in venture capital firms, companies, academic institutions, media and entrepreneurs who want to advance in this area without leaving anyone behind.
"Tech in Bloom aims to cut through the noise around diversity, inclusion and sustainability in science and technology to create meaningful engagement for our members from very cross-cutting areas," said Liswani. "We are therefore delighted to partner with a prestigious financial institution such as BBVA, which is currently taking strong and transformative steps towards inclusion and sustainability," she added.
Silvia Ibarra, Director of Client Solutions at BBVA Switzerland, who was present at the launch of the program, said that "by promoting financial education, we are taking the world of investments and innovation to a new stage of democratization, highlighting the enormous transformative power of the decisions we make not only personally, but also for society as a whole. It is our responsibility to create a fairer future for all".
Initiatives such as this demonstrate that, regardless of a professional's line of work, the combined efforts of individuals can create a culture that embraces differences and unleashes the full potential of each and every person.