Competition and collaboration: the new open banking playing field
Digitalization is revolutionizing financial services, with the PSD2 directive speeding up the transformation. What role will traditional banks, fintech, and tech giants play in this new environment?
Banks are no longer on their own. The digital revolution has erupted into their territory with the arrival of fintechs and the creation of new opportunities for Silicon Valley tech giants. The door to a new model is open: Banking as a Platform (BaaS).
Many consider BaaS to be the winning formula in this new context. It involves creating ecosystems with a multitude of products and services – not only financial – available to customers. An approach driven by the development of the 'API economy and empowered by technologies such as big data and artificial intelligence.
Banking as a Platform was the main topic of one of the panels at the Digital Business World Congress (DES) recently held in Madrid. The debate addressed the business model of big techs such as Amazon and Google, which have already for the most part created a highly profitable system with themselves at the center. But as Álvaro de Salas of  Indra Group'a unit Minsait pointed out, Banking as a Platform's DNA will be very different to the financial sector's. "We are talking about a systemic industry, a hyper-regulated sector with territorial regulations and so it can't be as global as Google and Amazon. Besides, the 'winner takes all' model predominant in technological circles can't be applied. Banking does not tolerate situations that are close to semi-monopoly", he explained.
"In the new environment of digital financial services, you not only have to keep an eye on the competitors, you have to get in bed with them"
Given these specific characteristics, the question is what role will each financial service provider play. They may be the leading characters in their own platform or they may play a supporting role in someone else's platform. To be the platform or to be ON the platform? Or, why not both?
It is not then just an issue of disruptive technologies as Manuel Sevilla, a cloud services expert and vice president of Capgemini Financial Services points out. The disruption lies in the new way of envisaging the business as a whole, hence the expression 'open banking', an area where BBVA's efforts have recently been recognized. The bank was recognized by specialist magazine Retail Banker International for having the best open banking services in the world. The publication lauded the commercial launch of its first APIs through BBVA API Market, as well as its efforts in the entrepreneur ecosystem of BBVA Open Innovation, particularly through BBVA Open Talent, the biggest fintech competition in the world, which celebrated its 10th anniversary this year.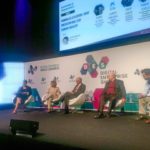 The participants during the 'Banking as a platform' conference.
BBVA's focus on open banking is also manifest in its investment, acquisition, and startup incubation strategy. An example of this is the launch of Denizen, which offers bank accounts for expatriates or people who live or work in more than one country. This service, which operates through APIs, is one of the first concrete examples of open banking and the rollout of PSD2. BBVA also took part in a financing round for the digital platform solarisBank, a pioneer of the idea of Banking as a Service. This German fintech allows corporate clients to offer financial services from solarisBank and third parties through the use of APIs.
Combining competition and cooperation
The world of open banking alters the business model and gives rise to a different idea of competition. "The banking industry has to get used to working more with peers, but that doesn't mean ceasing to compete," Minsait's De Salas believes. "They have to keep in mind that the main competition is coming from elsewhere", he said, referring to tech giants.
The need to combine competition with cooperation, not only among established banks, but also fintechs, was one of the points speakers at DES 2018 insisted on.
So, what role do the fintechs have in this new ecosystem? David García Hernández, Head de NextGen Banking at the consultant Everis pointed out that its role has changed over the past few years from that of challengers to accelerators of the process of change. Capgemini's Sevilla recommended that banks should not adopt a hostile stance to the emergence of fintechs but instead should "try to simplify their processes." Improving efficiency is key but you need to take a step beyond that. In the new environment of digital financial services, you not only have to keep an eye on the competitors, you have to get in bed with them.