Corporate information
Chairman's message Francisco González
BBVA has been developing a strategy for years based on diversification in markets with high growth potential, a customer-centric business model and technology as a key element in order to face the transformation process being experienced in the financial sector.
BBVA is an increasingly global financial group, and we have used these recent years to continue our expansion into markets with high growth potential, such as Turkey and Latin America that already provide more than half of our annual gross income.
In addition to the profound regulatory changes in our industry, as well as the turning of the world economy towards emerging markets, society, lifestyles and buying habits are also changing rapidly.
Conventional banking business models are no longer enough to meet customer needs. BBVA has been able to anticipate and evolve, offering our customers new, more simple solutions that they can access how, where and when they want. All this has been possible due to the use of technology as a strategic element to differentiate us from our competitors.
Our purpose is to bring the age of opportunity to everyone. The BBVA team are part of a corporate culture based on the principles of integrity, prudence and transparency, which have been key in allowing us to build a strong business model that is able to grow and is very customer centric.
I invite you to browse through the Group's corporate website, the best online storefront to find out in detail who we are and how we work, reflecting our commitment to transparency.
I also suggest you visit the Group's other websites that can be accessed from here. There you will find the widest range of products and services, designed and engineered to meet the specific needs of each of our customers.
History of BBVA
The history of BBVA is the history of the many different people who have been a part of the more than one hundred financial institutions that have joined our corporate endeavor since it originated in the mid-19th Century. Today at BBVA, we work to create a better future for people, seeking to build long-lasting relationships with our customers that change our way of looking at the business. As a result, BBVA has become a global leader and one of the world´s most renowned and award-winning banks.
BBVA is firmly committed to the future and is a pioneer in adapting to the needs of an increasingly global market and especially, to the banking industry of the 21st Century.
More than 150 years of experience support this commitment.
The Beginning
The history of BBVA dates back to 1857 in the city of Bilbao, in northern Spain, where the Board of Commerce promoted the founding of the Banco de Bilbao as an issuance and discount bank. This was a pioneering initiative that was driven by the economic growth in the region. Until the end of the 19th Century, it was the city's only bank.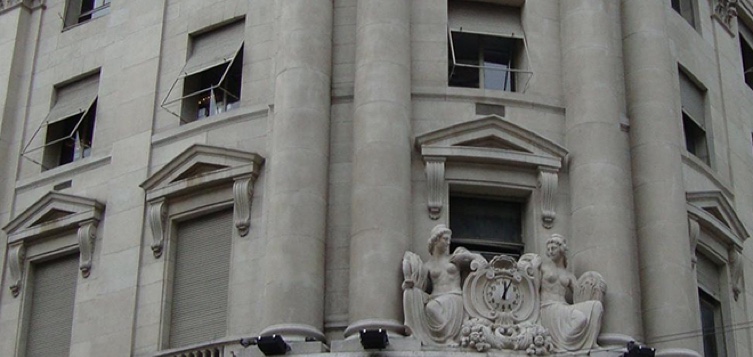 In the second half of the 19th Century, Banco de Bilbao financed several important infrastructure and steel industry projects. In 1878, it lost the right to issue its own banknotes and was restructured as a loan and discount bank. Banco de Vizcaya was founded in 1901; it carried out its first transactions in Bilbao and little by little, began to expand throughout the country. Apart from its activity as a commercial and depositary bank, Banco de Vizcaya took part in the creation and development of a large part of Spanish industry. In 1902, Banco de Bilbao and the Banco de Comercio merged, although both institutions maintained their status as legal entities.
In 1909, Caja Postal was created as a public-law entity and in 1916, it began to issue and administer savings account passbooks..
A consortium of bankers and industrialists founded the Banco de Crédito Industrial (BCI) in 1920, for the express purpose of promoting the installation and consolidation of industry by granting long-term credits. Banco de Bilbao and Banco de Vizcaya were part of that consortium.
In 1923, the National Agricultural Credit Service was created. A dependency of the Agriculture Ministry, it granted credits to agricultural and livestock associations, under the joint and several responsibility of its associates.
The expansion
During the economic development of the 1960s, Banco de Bilbao expanded, acquiring other banks and starting to create a financial group. Meanwhile, Banco de Vizcaya continued to grow and establish itself as a modern, universal bank and an important financial group. More flexible rules on opening offices allowed it to expand its commercial network.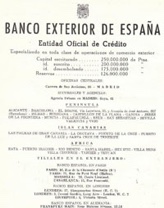 Caja Postal added more customer services, including checking accounts, stock purchases/sales, and lending in certain areas. The 1962 Banking Law nationalized BCI, BHE and BCL and transformed the National Agricultural Credit Service into the Banco de Crédito Agrícola (BCA). All four banks became entities governed by public law. But in 1971, they became official credit institutions (under the Law Regulating Official Credit) as limited companies.
In the 1980s, Banco de Bilbao based its strategy on reaching a size that would allow it to access the financial business that was then emerging from the technological advances, deregulation, securitization and the interplay between national and international markets. Banco de Vizcaya contributed to the rescue of banks that were affected by the economic crisis and developed a policy of strong growth through acquisitions, which led it to create a large banking group. Its most significant operation was its purchase of Banca Catalana in 1984.
Meanwhile, the official credit institutions continue to expand their business with market operations. In 1982, BEX lost its exclusivity of export credit, redirecting its business to universal banking, and formed a financial group. It acquired Banco de Alicante (1983) during this process. In 1988, Banco de Bilbao and Banco de Vizcaya agreed to a merger to create BBV.
Corporación Bancaria de España was established in 1991 as a state-owned enterprise and credit institution with the status of a bank. Its history began with a federated banking model, but in 1988 Corporación Bancaria de España (now privatized through public offerings), BEX (merged with BCI), BHE and Caja Postal merged into a single bank under the brand Argentaria.
BBVA unified its network of offices in Catalonia in May 2013 after the acquisition of Unnim Banc was complete.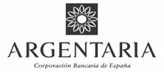 The Merger of BBV and Argentaria
BBVA and Argentaria announced their merger on October 19, 1999 in an effort to continue adding value, creating the new bank (BBVA). It was of a substantial size, with strong solvency, a large financial structure, ample geographic diversification of business and risks, and as a result, greater potential for growing its profits.
Customers now had access to an extensive distribution network, a wider range of products, new channels and a strong international presence. Employees, meanwhile, had greater opportunities for professional development.
The integration of the two banks was exemplary because:
Strategic decisions were made quickly. The organizational structure was defined immediately and a framework agreement was established with workers.
Working groups were formed and plans for the different areas of activity were defined quickly.
Ambitious deadlines were met, sometimes ahead of schedule.
The effort benefitted from the excitement, participation and team spirit shown by everyone in BBVA.
The integration process received a major boost when a single BBVA brand was adopted in January 2000. This allowed the bank to create, in very little time, an image based on its own unique identity. BBVA's integration process took place quickly and efficiently and concluded in February 2001.
The integration of the group's retail businesses in Spain (BBV, Argentaria, Banca Catalana, Banco del Comercio and Banco de Alicante) allowed the bank to take advantage of the potential offered by an extensive network of branches with the BBVA image.
Prestigious financial publications recognized the efficiency of BBVA's integration, naming it the best bank in the world (Forbes) and in Spain (The Banker) and in the year 2000, the best bank in Latin America (Forbes) and the best bank in Europe (Lafferty) in 2001.
The international group
BBVA began a major expansion process in 1995…
2012

Unnim Bank (Spain)
Divestment in Puerto Rico

2013

AFPs Latam, Afore Mexico and BBVA Panama divestments
New CITIC agreement, which includes the sale of 5.1% of CNBC (China)

2014
2015

Sale of stake in CIFH to CNCB (China)
Sale of 4.9% stake to CNBC (China)
Catalunya Banc (Spain)
Increase stake in Turkiye Garanti Bankasi (Turkey)
Acquisition of 29.5% of Atom (U.K.)

2016

Holvi (Finland)
Sale of 0.75% of CNCB (China)
Sale of GarantiBank Moscow AO (Russia)
OpenPay (Mexico)

2017

Sale of 1.8% of CNCB (China)
Increase stake in Turkiye Garanti Bankasi by 9.95% (Turkey)
Today BBVA is one of the main players in the financial industry.
BBVA in the world
Today, BBVA is a global financial group that provides services to 73 million customers in more than 30 countries. It is a leading bank in the Spanish market and the largest financial institution in Mexico. BBVA also has leading franchises in South America and in the Sunbelt region of the United States. The Group has a significant presence in Turkey (through strategic investments in Garanti Bank) and operates an extensive network of offices throughout the world. Its diversified business is focused on high-growth markets and it considers technology a crucial competitive advantage. This balance between emerging and developed markets allows the Group to diversify its revenue sources, providing a high degree of recurrency in its results.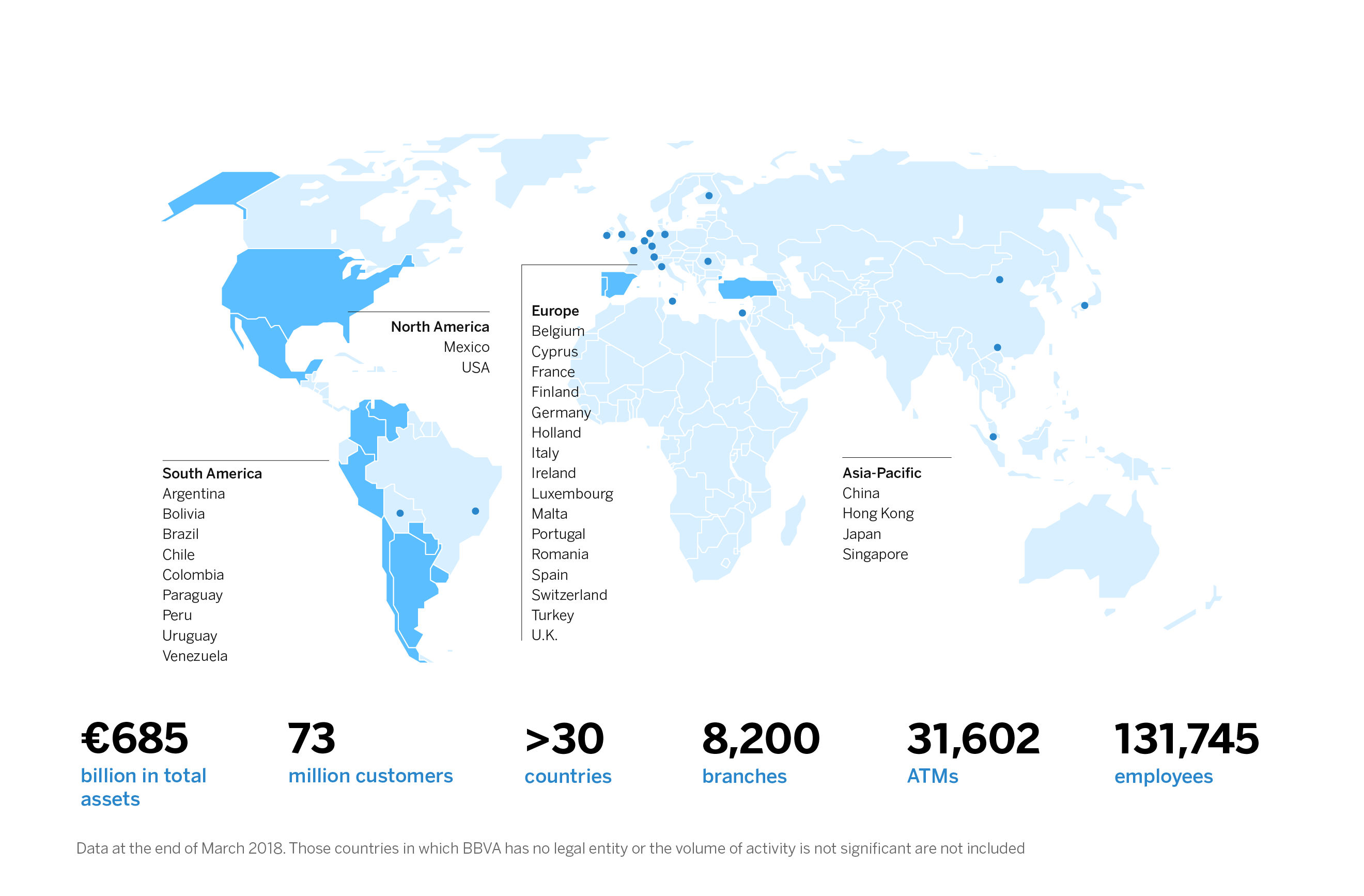 Our team
We have a top-notch team at BBVA. We are inspired by our purpose and work as a single team.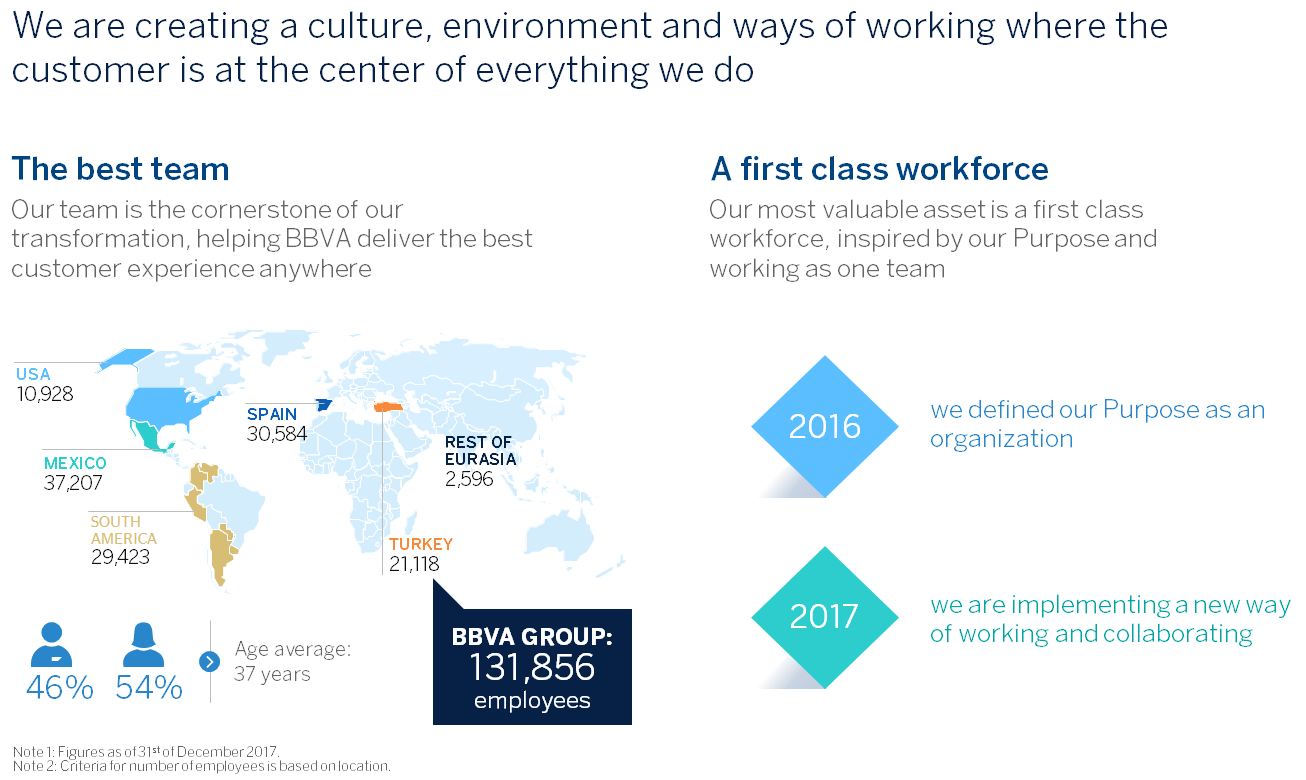 Basic data
Relevant data of the BBVA Group (consolidated figures) at 31-03-2018. This section contains all the updated quarterly figures on the balance sheet and income statement, and other relevant data.

More financial information is available on the Shareholders and Investors website.
Organizational chart
Global Economic Reg. & Public Affairs José Manuel González-Páramo

Legal & Compliance Eduardo Arbizu

Strategy & M&A Javier Rodríguez Soler

Accounting & Supervisors Ricardo Gómez Barredo

Communications Paul G. Tobin

General Secretary Domingo Armengol

Internal Audit José Luis de los Santos

Corporate & Investment banking Juan Asúa

Country Monitoring ¹ Jorge Sáenz-Azcúnaga

Country Manager Spain Cristina de Parias

Country Manager México Eduardo Osuna

Country Manager USA Onur Genç

Country Manager Turkey Fuat Erbil

Customer Solutions² Derek White

Talent & Culture Ricardo Forcano

Engineering Ricardo Moreno

Data David Puente

Risk &
Finances Risk & Finances

Finance Jaime Sáenz de Tejada

Global Risk Management Rafael Salinas

Corporate structure

The organizational structure of BBVA has two basic objectives:

To strengthen the results of the Group´s banks in the short and medium term.
To build the differentiating capabilities needed to develop a competitive advantage that will allow us to successfully compete over the long term in the new environment, and that accelerate the results in the medium term.

This structure is divided into: Execution & Performance, New Core Competencies, Risk & Finance and Strategy & Control. The first four are the responsibility of the CEO and the last, the responsibility of the chairman.

Execution & Performance: Includes the geographic areas and Corporate & Investment Banking:

The geographies are the responsibility of the CEO: Spain, Mexico, the United States and Turkey directly, and the rest through Country Monitoring, an area that monitors the countries, in order to support the CEO.
Corporate & Investment Banking is a global area of the Group, which includes the activities of investment banking, markets, loans, and transactional services for international corporate clients and institutional investors.

New Core Competencies: incorporates critical capacities and global talent, in order to compete in the new environment. In accordance with this model, the structure has the following areas:

Customer Solutions: this area is charged with creating and promoting global solutions and products to satisfy the needs of BBVA clients. Customer Solutions is structured around five types of units: Execution, Competencies, Products and Experiences, Strategy and Facilitating Units.

The Execution unit combines the functions of Business Development, Digital Business, CIB & Commercial and Asset Management & Global Wealth.
The Competencies unit encompasses the functions of Design & Marketing, Data & Open Innovation y Customer Solutions Engineering.
The Products & Experiences group has the functions of Global Products & Digital Sales y Distribution & Engagement.
The Strategy and Portfolio Management unit
The Facilitating Units will incorporate the functions of Coordination & Control y Talent & Culture for Customer Solutions.

Talent & Culture: The area charged with promoting new methods of talent management and adapting the culture to the new environment.
Engineering: The area that manages, apart from technology operations, the development of software and processes for solutions for our clients, with a global focus.
Data: The area in charge of promoting the strategic use of data in all of the bank´s areas and businesses.

Risk & Finance: comprises several relevant areas, such as global risk management, the balance sheet and the solvency of the Group. It is divided into:

Finance: The area responsible for managing structural risks on the balance sheet and capital, investor relations, shareholders and ratings agencies, Management Control and Management Information Systems and the purchasing function.
Global Risk Management: The Group Risk Management Area, focused on preserving the solvency of the Group, supporting its strategy and assuring the development of its business, maintaining appropriate risk management during the entire risk cycle and in all the geographies where the Group operates.

Strategy & Control: responsible for establishing Group strategy and the frameworks of action and control in important areas such as compliance, communication, internal audits and accounting information, among others. It is structured as follows:

Global Economics Regulation & Public Affairs: The area responsible for the Group´s economic studies service and for promoting and developing institutional relations.
Legal & Compliance: management of legal risk, legal advice for the entire Group, risk management derived from Compliance Issues (prevention of money laundering, protection of customers, personal data and markets) and collecting, sharing and bringing to the attention of the Corporate Assurance Committee, the principal risk problems of the Group.
Strategy & M&A: corporate development functions, setting the strategy directives at Group level, as well as responsibility for executing merger and acquisition transactions. This area also contains the Real Estate and Equity Holdings units.
Accounting & Supervisors: responsible for preparing Accounting and Regulatory information, tax information, and for the relationship with supervisors and regulators.
Communications: manages the BBVA Group´s communications in all its geographies, promotes brand journalism and works to improve the reputation of BBVA.
General Secretary: Legal and technical advice and support for the corporate bodies and the different areas of BBVA in institutional, legal, corporate and corporate governance matters.
Internal Audit: carries out an independent and objective activity of assurance and consultation, aimed at adding value and improving the company´s operations.

The transformation of BBVA

BBVA has emerged as a global leading financial institution, especially after the recent economic crisis, during which it showcased some of its greatest strengths: recurrency in its results, structural resilience in any environment and value generation for our stakeholders, a strength that will keep growing, thanks to the technological capabilities the group has been building up, which will allow us to meet our goal of becoming the best bank of the digital era.

The new environment

The new environment poses a major challenge for the financial industry, for a number of reasons. In first place, it places more pressure on profitability, as a result of low interest rates, the activity slowdown and increased regulatory pressure.

Meanwhile, new specialized players are entering the financial industry, successfully taking on different segments of the value chain (payments, financing, asset management, insurance, etc). Their disruptive proposals are built mainly on better customer experiences and lower operating costs. These players include both fintech startups and tech giants (Google, Amazon, etc.), which are already competing against incumbents in this new environment.

Also, game-changing technologies and the use of data are creating unimaginable opportunities, thanks to automated data analysis and algorithms (risk profile, habits and preferences, financial needs and expectations, etc) and the reduction of unit costs thanks to process automation and scalability.

Finally, as their habits change, consumers are demanding a new type of banking relationship and innovative services that cater to their new needs. Customers today are hyperconnected (they expect to be able to operate anytime, anywhere), accustomed to digital experiences (they expect proactive and personalized help when managing their finances) and use multiple devices and applications (they want to be able to operate using whatever channel is more convenient for them.) Also, they demand a banking relationship built on higher levels of transparency and trust, as well as more personalized, accessible and convenient financial services that will help them achieve their goals in life.

Our Value Proposition

In this context, the main objective of BBVA Group's transformation strategy is to strengthen our relationship with our customers, redefining our value proposition to focus on their real needs.

We want to help our clients make the best financial decisions, through a clear, straightforward and transparent product and service offering, subject to fair terms and to the principles of prudence and integrity, to earn their trust.

Also, our value proposition must be easy and convenient; in other words, a proposal that offers customers the possibility of accessing our services at all times, from any place and using their channel of choice, providing the functionalities required to allow them to do it autonomously, through digital channels, or through human interaction.

In addition, we must provide relevant help and advice. We have to help our clients make the best decisions (banking and non-banking), support them in managing their daily finances, offer them products and services in a proactive, innovative and personalized way, and make the best recommendations to help them choose among all the available financial alternatives.

In short, we need to move from being providers of infrastructures built around money to making a difference in the lives of people and businesses.

Our strategic roadmap: Purpose and Strategic Priorities

To guide the execution of our new strategy, we have defined a new corporate purpose: "To bring the age of opportunity to everyone." We have six strategic priorities.

1 The best customer experience
2 Digital sales
3 New business models
4 Optimize capital allocation
5 Efficiency leadership
6 The best team

1. The best customer experience

BBVA Group is focused on delivering the best customer experience – a simple, transparent and rapid experience - empowering its customers and offering them personalized advice.

Our customer-centric business model offers a differential treatment with a very ambitious goal: to become leaders in customer satisfaction across the different geographies that make up the Group's footprint.

2. Digital sales

Digitization is the driver of BBVA's transformation and an essential element for boosting its digital channel business. We are developing a digital product and service portfolio that will allow our customers to operate through their channel of choice.

3. New business models

To accomplish the Group's transformation, BBVA is actively participating in the digital disruption of the financial industry, through its New Digital Business (NDB) unit. For this purpose, we are building our presence in the fintech ecosystem, in pursuit of new digital business models for the bank.

4. Optimize capital allocation

The purpose of this priority is to improve business profitability and sustainability, as well as to simplify and focus said business on the most relevant activities.

5. Efficiency leadership

In a low-profitability environment for the financial industry, efficiency becomes an essential priority in BBVA's transformation plan. This priority entails building a new organizational model, as responsive, simple and automated as possible.

6. The best team

BBVA prioritizes attracting, developing, motivating and retaining the best team, delivering the best employee experience and taking corporate culture to the next stage, to align it with the Group's transformation process and its purpose.

Our Values

BBVA is a forward-looking, honest and innovative financial institution, which was born with the mission of financing people's dreams. Today, this spirit still inspires the company and encourages us to transform their lives, helping them to make the best decisions to achieve their dreams. For us, that's what "bringing the age of opportunity to everyone" is about.

The customer comes first

At BBVA, we put ourselves in our customers' shoes, taking their point of view into account in all our decisions and putting their interests first, always.

We tend to our customer's needs proactively and efficiently, overcoming any difficulty we may run into.

We think big

We want to surprise our customers with the best solutions, delivering amazing experiences.

That's why we set ambitious and aspirational goals for ourselves, questioning everything we do and proposing new ways of doing things.

We are one team

At BBVA we are committed to both our personal role and the Group's common goals, which we pursue as if they were our own.

We work as a single team, trusting our co-workers, removing obstacles between areas and tearing down hierarchical barriers.

Social Commitment

BBVA is strongly committed to the communities in which it operates, and undertakes a number of initiatives in them on several fronts: financial education, education for social integration, support to social entities, entrepreneurship and knowledge, science and culture.

BBVA's Social Impact in 2017

Corporate Presentation

Corporate Presentation 1Q18 (PDF 3.1MB)

Download PDF

Code of Conduct

The Code of Conduct was approved by BBVA's Board of Directors on May 28, 2015.

Download PDF

BBVA's tax strategy

BBVA's corporate principles for tax issues and fiscal strategy, approved by the Board of Directors on July 1, 2015

Download PDF

U.S. Patriot Act

The USA Patriot Act is a U.S. law approved in 2001 following the September 11th terrorist attacks. Its main purpose is to increase government control to fight terrorism and improve different U.S. security agencies' capacities through coordination and granting the agencies greater monitoring power.

One of the ways in which the USA Patriot Act combats terrorism is by the monitoring banks in order to prevent money laundering, a source of funding for terrorist groups.

In accordance to the requirements of the USA Patriot Act, all banks located outside the U.S. that wish to engage in or maintain international relations with a U.S. bank or broker/dealer are required to provide certain information about the nature of their business and their supervision.

That's how the USA Patriot Act applies to BBVA.

Global USA PATRIOT ACT Certificate – PDF Document / (1593 KB)

Global USA PATRIOT ACT Certificate for use by any financial institution that provides, or could provide services to any institution in the BBVA Group or the entire BBVA Group.

Download PDF

FATCA

The Foreign Account Tax Compliance Act (FATCA) is a law introduced by the U.S. Department of Treasury and Internal Revenue Service (IRS) to encourage enhanced tax compliance and transparency with respect to U.S. citizens or residents. FATCA requires financial institutions around the world to identify U.S. persons that have foreign bank accounts, among others, and report them to the U.S. tax authorities. To ensure compliance, a 30% withholding tax will be imposed on certain payments to non-compliant institutions and individuals.

BBVA, along with its subsidiaries and branches, is committed to help ensure international tax compliance while maintaining high standards of customer data security. BBVA is therefore proactively implementing changes in its current business practices to ensure compliance with FATCA.

BBVA institutions affected by FATCA have already been registered with the IRS and will appeal in the next official IRS list of participating financial institutions.

FATCA requires financial institutions across the globe to fulfill certain requirements:

Identify the following customers with a BBVA account:

U.S. citizens or residents
U.S. corporations
Certain legal institutions, mainly private equity entities owned by U.S. citizens

Report information on account holders listed above to the IRS or local tax authorities. This information includes:

Personal information: name, address and U.S. Tax Identification Number (US TIN)
Account information: account number, account balance and payments made or received in the account

Withhold 30% from account holders on certain payments from the U.S. (mainly interest and dividends) that fail to comply with FATCA .

However, It is not expected that FATCA will affect most of BBVA's customers. FATCA entered into force on July 1, 2014. Reporting began in 2015.

Please note that BBVA does not provide tax advice. If required, we recommend our customers seek independent advice on FATCA from a professional tax advisor. BBVA and its subsidiaries are not liable for any errors, omissions or opinions contained within this document.

BBVA Due Diligence

Know more about our regulatory framework, financials reports, Corporate Governance and Corporate Integrity Models