BBVA Compass' archive of Harvey-related stories designed to help Houston navigate new reality
In the month since Harvey hit Houston, BBVA Compass has published a series of articles to help its customers and the public at large understand the city's new reality, how to move forward, and how the bank will be there to provide support.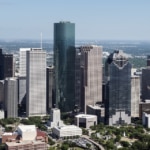 BBVA Group, the Madrid-based parent company of BBVA Compass that operates in dozens of countries around the world, publishes news from its footprint on bbva.com. BBVA Compass has been publishing articles on bbva.com since last year, chronicling both the happenings at the bank itself and also exploring topics of interest to its clients and prospects. It has published news on the bank's latest products or awards, for instance, as well as talked about the ins and outs of consumer lending and the costs to a service provider when their clients pay tips via credit card.
"We're the fourth-largest bank by deposit market share in Houston, so we knew a lot of our clients were facing uncertainty and needed information quickly and accurately," said BBVA Compass Director of External Communications Christina Anderson, whose team contributes to bbva.com. "We put our resources to use answering their questions and setting them on a path where they felt better informed and empowered."
The articles fall into two camps – informational articles for the general reader, and stories about what the bank itself is doing in the aftermath of Harvey. Links to the stories are below.
Informational Articles
Articles About BBVA Compass
---
Click here to contribute to those affected by Hurricanes Harvey and Irma. The BBVA Compass Foundation will match all donations up to $150,000.
For more information on how BBVA Compass is helping those impacted by Hurricanes Harvey and Irma, click here.