Francisco González: "We want to be the best adviser of our customers"
BBVA's Group Executive Chairman said that developing the best banking application in the world (according to Forrester) has been a work that "has taken many years." To get to this point, Francisco González underscored that "the most important thing was when we adopted 'agile' work methodologies that allow us to deliver upgrades every three months." The application helps customers make better financial decisions and manage their financial lives better. Ultimately, he stated, we "want to be the best adviser of our customers."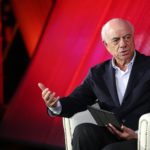 BBVA's Group Executive Chairman participated in South Summit, an event that that being held these days in Madrid. During the meeting, he said that the bank wants to help people to choose the best products and services, and made reference to the huge challenge that lies ahead for the financial industry, indicating that "only very few banks will be able to deliver this level of products and services", based on technology.
Customer experiences
Regarding customer perception and experience, BBVA's Group Executive Chairman indicated that the company has learnt that "the more our customers work with us in the digital environment, the more customer satisfaction grows." Francisco González also discussed how the future of financial services is going to be closely linked to the ability to solve complex financial needs, offering a personalized real-time service. Also, he emphasized that BBVA is a service company that relies on big data "to offer the best products to our customers." This is the case of Bconomy, a new functionality built into BBVA's application and website in Spain, which lets customers assess their customer health offering tailored plans to improve it.
BBVA's Group Executive Chairman also noted that, in order to ensure customers have the best possible experience, two things are needed: An impeccable reputation based on transparency and a lack of conflicts of interest, and a clear approach based on 'exponential technologies' like cloud computing, cell phones, open innovation, big data, biometrics, blockchain and artificial intelligence.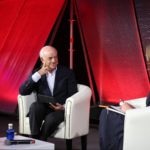 Francisco González and Vanessa Colomar at South Summit
Asked about the role of regulators, he stressed that new regulations need to strike the right balance between "consumer protection and the solidity of the financial system without holding back innovation." This is "critical", said Francisco González, to guarantee "that the industry remains competitive in the  long-term.".
In the conversation BBVA's Group Executive Chairman held with Vanessa Colomar,  Francisco González also indicated that, given the wide range of suppliers willing to participate in the new digital ecosystem, a competitive environment is needed in which "all products and services receive similar regulatory treatment regardless of the nature of the supplier that is offering them."    Only then, he said, will we compete on "a level playing field".
When asked about the challenges facing companies like BBVA to compete in the 21st Century, BBVA's Group Executive Chairman maintained that "a multidisciplinary effort" is needed that includes having new technological platforms, a new organization, talent, processes, a new corporate culture and new products.  In this regard, Francisco González said that BBVA began its digital journey more than ten years ago with the commitment to "bring about a radical change, converting the bank into a digital company." When asked about the role that tech giants will play, he noted that BBVA "has to be as efficient as they are."