To be sustainable or no to be, that's the question
Each individual can play a part in the fight against climate change, to one degree or another. With small, daily gestures, it is possible to contribute to the conservation of the environment. Large corporations, through different debt instruments, bonds, and even specific transactions, also play a role in supporting this campaign, a campaign that concerns every corner of society. More specifically, what impact do businesses have on the environment, and what can they do to offset it?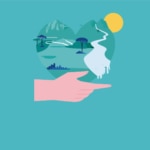 "You say you love your children above all else, and yet you are stealing their future in front of their eyes". These are the words of Greta Thunberg, the 16-year-old Swedish activist who instigated an international movement of young people, calling on world leaders to react to – and act on behalf of – the climate. Greta has become one of the prominent voices in the fight against climate change and has attacked the political establishment for their failure to act. In the European Union, measures to fight climate change and reduce greenhouse emissions have become a priority.
The corporate world has also stood up and taken note of this issue. Aside from strategic tactics, diversification activities, or a simple corporate reputation concerns incenting companies to become involved in environmental issues, businesses are increasingly looking for sustainable funding sources. There are also numerous companies that, by virtue of the nature of their business, consume large amounts of energy, thereby increasing their share of CO2 emissions in the atmosphere.
Telecommunications companies serve as a good example. According to the experts, their emissions will represent 2 percent of total greenhouse gases in 2030, comparable to the aviation industry. In today's world, data transmission entails high energy consumption. Nonetheless, gradual improvements in this field are making it possible to transport more data in less time. These are precisely the kinds of businesses that show high potential for improvement; they also own the specialized equipment to measure the impact of their activities (their carbon footprint). According to the team responsible for sustainable bonds at BBVA, this environmentally-aware sector will play a major role in the next wave of green deals.
Telecommunications emissions will represent 2% of total greenhouse gases in 2030, comparable to the aviation industry
According to a report produced by ESADE business school, in Spain companies that are listed on the stock market are far from meeting the Sustainable Development Goals (SDGs). The ESADE report points out that only 14 percent of these companies currently report on the measures they have adopted to meet these goals. It is therefore urgent that they "step up and resolutely embrace" the objectives of the United Nations development agenda.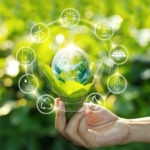 In the European Union, measures to fight climate change and reduce greenhouse emissions have become a priority
BBVA brings sustainable solutions to its clients
The bank is committed to doing its part to support the economy's transition towards a model with lower greenhouse emissions while helping its customers make better decisions. In 2018 BBVA approved Pledge 2025, which includes a commitment to securing €100 billion of green financing, sustainable infrastructure, social entrepreneurship, and financial inclusion by 2025.
As a pioneer and the dominant player in the sustainable loan business, BBVA is currently one of the most active organizations on the world stage and the leader in Spain in this area. In 2018, the bank managed a total of 17 deals across Europe and the Americas for clients in various sectors; it was also the organization that most frequently assumed the role of either sustainability coordinator or agent. By the end of May 2019, it had led nine other such engagements.
2018 proved to be a year of consolidation for green, social and sustainable bonds. As an issuer, BBVA approved its framework for sustainable bonds tied to UN SDGs and successfully concluded inaugural green bond issues by BBVA in Spain and México, as well as BBVA Garanti's first gender bond. As a placement and structuring agent, BBVA has maintained its leadership in this market, participating in 13 operations as a bookrunner.
Also in 2018, the bank made further inroads in its goal to help its corporate clients with their sustainable finance strategies. In an unprecedented move in the industry, the bank has developed a sustainable framework for transactional products – a framework tied to the United Nations SDGs. The new methodology facilitates the classification of its customers' transactional banking operations designating them green, social, or sustainable.