BBVA closes sale of Spanish real estate business to Cerberus
After obtaining all required authorizations, BBVA closed the transaction that will transfer its real estate business in Spain to Cerberus Capital Management, L.P. The deal was announced in November 2017. The closing of the transaction results in the sale of 80 percent of Divarian's share capital to Cerberus, the company created to transfer the real estate portfolio. BBVA is to retain the remaining 20 percent stake.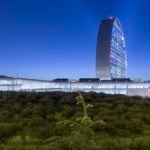 This transaction marks a milestone in the BBVA Group strategy as it eliminates almost entirely its exposure to the real estate market. As BBVA CEO Carlos Torres Vila stated when the deal was announced in November 2017, "the transaction significantly reduces our exposure to a non core business, and it allows us to strengthen our transformation process."
BBVA estimates that the transaction will not have a significant impact on the Group's net attributable profit nor on its fully loaded CET1 capital ratio.
For 2018 BBVA expects losses from the Non Core Real Estate area to be 80 percent lower than those of last year, when it posted €-501 million. BBVA expects the impact of this business unit to be negligible starting 2019.
The real estate business includes both real estate assets as well as the employees needed to manage the business. The transfer of several real estate assets (REOs) is subject to the fulfillment of specific, standard conditions for this type of transaction, as was reflected in the relevant event announcing the agreement. Consequently, the final price will be adjusted depending on the volume of REOs effectively transferred.
In the last two years, BBVA has been one of the most active financial institutions involved in these type of transactions. Together with the agreement that closed today, other milestones for the bank have included the sale of a portfolio of almost 3,500 units known in the market as Project Buffalo; the sale of a 14 office building portfolio referred to as Project Boston; the sale of the Puig Tower, one of the largest real estate transactions in Barcelona; the agreement with Metrovacesa Suelo y Promoción for the transfer of 108 lots for housing construction; the sale of the Jaipur Portfolio, a loan portfolio from real estate developers; the sale of 27 percent of its stake in Metrovacesa during the company's IPO; the sale of Project Sintra, one of the biggest property development loan portfolios in the Spanish market.  Additionally, BBVA sold its of 25.24 percent stake in Testa. Finally, it  concluded the sale of its office building at Gran Via 1 in Bilbao.