A company like BBVA has many stories to tell, and the objective is always to find a way to share our stories with as many people as possible. This is why we have been developing a voice content strategy linked to podcast programming for more than a year.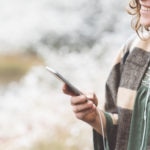 As part of our "Develop our own voice" strategy, it is important to have firsthand knowledge of who we are and what we do. The relevance that podcasts have in the marketplace led the team to reflect on how we could tell our stories in new ways.
A sector on the rise
According to data from Edison Research, half of the U.S. population has heard at least one podcast at some time during their lives. Additionally, 90 million Americans have listened to one in the last month. What's more, the PwC's Global Entertainment & Media Outlook 2018-2022  study shows that revenues in this sector will grow at an annual rate of around 30% in Spain between 2018 and 2022.
The most powerful media on the planet are leveraging this format to hook their audience. Examples like The New York Times The Daily, podcast or the BBC´s podcast show the way for other media outlets.
The idea is to take "the voice of the bank" to wherever people are
Like BBVA, other large companies such as Goldman Sachs or IBM also include podcasts as important elements in their communication strategy.
BBVA's podcast
Since December 2017, BBVA has a podcast channel to reinforce the dissemination of its own content. The first podcast was 'Blink', a weekly program with practical information on transformation, fintech solutions, entrepreneurship, work methodologies, and economics. "Blink" was followed by 10 more programs with different themes and periodicities in which the countries in the Group actively participated: 'Aprendemos Juntos', 'Deep Talks', 'Data Historias', 'Acentos', 'OpenMind', 'Edufin', 'Desde la Banca', 'Voces', 'Sencillo y efectivo' and 'The Mind Bank', which is broadcast in English. All these programs can be heard on BBVA Podcast and on the following platforms iVoox, iTunes, Spotify, Google Podcast y en bbva.com
An award-winning effort
Last April, BBVA's podcasts won the second Ramón del Corral Dircom Awards, which are organized by the Association of Communication Executives. These awards go to the best practices in Communication in Spain.
The BBVA podcast received the award for "Corporate Radio and Television" in the "Multimedia & Digital" category after coming on top of the projects "Grayling TV, public affairs insights" and "Radius. The radio of the University of Seville."
What can we expect going forward
The resurgence of audio as a communication model is a fact. The advances in voice recognition with virtual assistants and the development of podcasts open a new way of interacting with the smart devices that surround us—not just phones, but connected devices in the Internet of Things—and it does it in a much more natural and intuitive way.
The idea is to take "the voice of the bank" to wherever people are. This strategy includes the development of these 11 different programs carried out thanks to the Communication teams of Holding, Spain, USA, Mexico, Peru, and Colombia, so far. Let's keep growing together