Madrid hosted last week the Service Design Global Conference (SDGC17), a leading event in the world of service design that pays special attention to how this discipline is changing the world of banking. BBVA took part in one of the sessions to explain how design is, without a doubt, a key element in the success of its financial products and in satisfying customer needs at a time of great challenges for banking.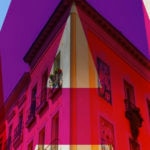 The arrival of fintech companies, the post-crisis regulatory restrictions and the need to recover customer confidence – these, according to Birgit Mager, president of the Service Design Network, are the great challenges that financial institutions are facing today.
Mager, one of most respected figures in her field, says the big question to be answered is: can service design help to solve these challenges? The question was put to a panel in which two of the participants were  Derek White, BBVA's Global Head of Customer and Client Solutions; and Rob Brown, head of Marketing, Design and Responsible Business.
Service design consists of creating the necessary 'touchpoints' between businesses and customers throughout all the interactions required for a service, so as to provide an optimum user experience. The challenge lies in having an overall vision of the service being offered, and in aligning all the company´s resources to make the impact of that experience be as positive as possible.
White's answer to the question was a resounding 'yes. "Incorporating design into the creative foundation of all our projects is one of the keys to making a great company like BBVA act increasingly like a startup  - capable of adapting to the major changes that are taking place today in the way people interact with technology and with their money."
In this way, White said, design becomes a way to accelerate technological innovation within the organization and to face up to external challenges. "Only the companies that offer their users better ways of interacting with their daily decisions and their money will survive in the future.  And to do that, we need to change, not only what we offer our customers, but the way in which we create it. That´s why we have some 250 designers in the company around the world and we expect that number will continue to rise," he said.
One of the basic tools for making this approach that of a startup in constant evolution and improvement - an integral part of BBVA, White said, is to implement the "Triangle method." This scheme is based on the idea that each project (White prefers to call them "creations") is based on three essential vertices: design and data; technology and engineering; and business development. Thanks to this approach, all the products launched in the market benefit from the perspective of a team of designers who are involved from the start.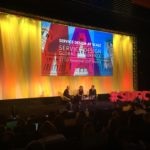 Derek White, Birgit Mager and Rob Brown during the event in Madrid.
On the other hand, Derek White explained how the integration of service design into the core of the projects confronts another of the challenges to banking: the intrinsic sluggishness of the sector, which is marked by regulatory pressures. "Working with methodologies that enable us to launch products to the market in a short time is essential. That´s why we combine the Triangle method with the 3-6-9 creation cycle, and we even work to reduce these time periods and to be capable of launching a product in five or six months."
Talent, communication and non-conformism
The speed at which those products pass from the "laboratory" into the customers' hands is one of the elements that makes BBVA an attractive environment for designers. "In my experience, I have learned that young designers are motivated by two things: working in a fun environment, where they enjoy what they are doing and establish good relations; and seeing how their work is turned into real products within a short time," he explained. Both elements are key to the way in which Brown manages his team, which he considers a great incentive to young designers, whom he encourages to develop their talent.
"We want to create spaces where they can think about new ideas, and work without restriction on projects that they believe will have a great impact on the world," added Brown. He believes that communication, both with employees and with the bank´s customers, can provide the answer to the other challenge posed by Birgit Mager: how to regain customer confidence in a changing environment.
For Brown, the key is that the more you listen to customers, the more you understand their needs. And once you do, he says, "the products will be better able to really help them make decisions in a complicated area of their life," their personal finances. To achieve this, Brown´s team has a research laboratory where customers are invited to test products, and where their needs are constantly recorded.
This non-conformist philosophy of active listening, which always seeks to dazzle the customer, is present in the development of all the bank's products. "We can´t ever sleep," says Brown. Even in the case of products such as the BBVA mobile banking app, which Brown´s team continues to work on even after it was named best in the world by Forrester Research. "We keep working to improve customer input and in fact, we put out a new version only five months after the mention by Forrester," Brown said.